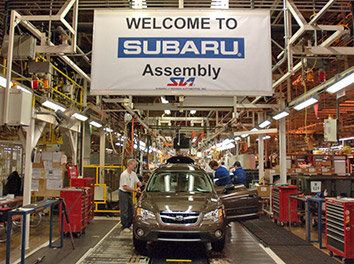 Subaru of America is halting production on one of its Lafayette plant's production lines for four days due to a parts shortage caused by Japan's devastating earthquake and tsunami.
Subaru spokeswoman Jennifer McGarvey tells the Kokomo Tribune that the automaker will halt production on the plant's Toyota Camry line Friday, next Monday and on April 21 and April 25. Workers on that line have several options, she said, including using vacation time, personal days and other paid days off or coming in and being paid for non-production work.
McGarvey says Subaru has not determined whether the plant's three other production lines — all of which make Subaru vehicles — will experience any changes. The Lafayette plant employs a total of 3,550 permanent and temporary workers.
Please enable JavaScript to view this content.