As ambitious an arts project as you are likely to find so far this century in central Indiana, IU Opera's world premiere production of "Vincent" (through April 17) overflowed with stunning design and strong music. And the opening weekend brought both journalists and opera producers from around the country to Bloomington to see what composer Bernard Rands and librettist J.D. McClatchy have created. National press is already starting to hit.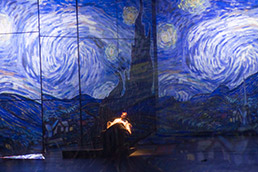 David Moore, plays tormented artist Vincent van Gogh, sharing the stage with outstanding visuals. (IU Photographic Services)
To be clear, Rands and McClatchy are heavy hitters. A 1984 Pulitzer Prize winner for "CantidelSole" and 2000 Grammy winner for "Cantid'Amor," Rands has written for orchestras around the world, including a seven-year stint as composer-in-residence for the Philadelphia Orchestra. Conductor Riccardo Muti will be premiering Rands' "DanzaPetrificada" with the Chicago Symphony Orchestra in May.
McClatchy is no slouch in the words department, either, having provided English versions of "The Magic Flute" and "The Barber of Seville" for the Metropolitan Opera. He also penned the libretto for Ned Rorem's "Our Town" and spent the last 20 years serving as editor of The Yale Review.
I'll leave it to others better versed to comment in detail on the intricacies of the music itself. I will say, though, that within minutes Rands relaxed anyone who thought the term "contemporary opera" had to be synonymous with atonal, dissonant, "difficult" music. "Who cares if you listen?" composer Milton Babbitt famously said (and, interestingly, is quoted in the latest IU Music magazine in an article unrelated to "Vincent"). His argument: Why should contemporary musicians be any more understandable to the general public than scientists and mathematicians?
I'm thankful the Rands score attempts to probe the psychology of van Gogh in a way that doesn't forget that we're in the theater for a transcendent experience, not for an endurance test or to prove that we can handle serious music. While the arc of van Gogh's life may be familiar, the hope and beauty of the music helps keep matters dramatically interesting even when the rest slows down.
Performed here with pros alternating in the leading role, students providing support, and strong performances in the orchestra pit, "Vincent" has been given a worthy launch. The setting, mostly consisting of projections that take us into van Gogh's perception of the world, works beautifully and the choices of key scenic elements—a chair, a tree—adapted from the artists' paintings are smart without calling too much attention to themselves.
The libretto is, on one level, admirable for sticking close to the facts as revealed primarily in the letters exchanged between Vincent and his brother Theo. And there's no ambiguity about this portrait of the artist as a frustrated would-be missionary. The downside of such fidelity is that the truthfulness hinders the ability of the piece to soar dramatically. (Sondheim's "Sunday in the Park with George," another artist-focused work, would be far less interesting if it stuck to the facts of Georges Seurat's life.)
It doesn't help that "Vincent" employs spoken dialogue in a seemingly haphazard way. That, combined with the fact that it's sung in English, sometimes brings the work to the neutral zone between opera and musical theater, creating dramatic demands that the work doesn't yet satisfy.
Female characters are nearly non-existent and male supporting characters are sketchily drawn (a mature performer might have made more of fellow artist Gauguin). The lead I saw on opening night, David Adam Moore, certainly has the look of van Gogh and the pipes to deliver the music, but he often seemed like he was waiting for his orchestral dining companion to hurry up and finish the meal so they could move on. Moments where the music is gorgeous often are accompanied by actors standing on stage with little to do.
In a concert or in a recording, that wouldn't be an issue—and I suspect the reputation for "Vincent" will grow if it does get recorded. And it should. Rands, with IU as midwife, has birthed something rare and good here. With proper nurturing, it could grow into something truly outstanding.
I hope to have the opportunity to see it again in its next incarnation.•
__________
This column appears weekly. Send information on upcoming arts and entertainment events to [email protected].
Please enable JavaScript to view this content.