Indiana's oldest bar, Slippery Noodle Inn (372 S. Meridian St., 631-6974), is one of the city's most celebrated live music venues.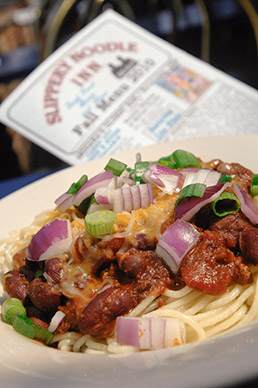 The Chili Over Vermicelli Pasta at Slippery Noodle is a meal–or two– in itself. (IBJ Photo/Perry Reichanadter)
It's also an easy-access lunch spot—it even has its own free parking lot. Yet downtowners seem to feel some reluctance to cross the great train track divide for better-than-average bar food with some creative twists.
I've been in many times over the years, but I realized on this visit that I haven't tried anything from the menu that actually had noodles. This time, I remedied that with a heaping bowl of Chili Over Vermicelli Pasta ($6.99) as an appetizer. It made no effort to reinvent the barroom staple, but with chunky tomatoes, hearty beans and pasta cooked just right, it could have been a meal on its own.
For the rest, my dining companion and I opted to pick only from items marked "new" on the paper menu. That meant a (big) MacNoodle Burger ($8.49). The name may call to mind McDonald's famous double-decker, but this one's size and taste were in another league. Topped with diced red onions, shredded lettuce, thick pickles, American cheese and a "special" sauce, this hefty half-pounder
delivers more meat than bread and is a slip-sliding mess—in a good way. For a $2.29 upgrade, a sizable Garden Salad was absurdly cheap and plentiful, if not particularly inventive.
The Grilled MahiMahi Burger ($8.59) was less successful. A circular patty served with sweet and spicy sauce, lettuce and tomato, it had the eye appeal of something from a middle school cafeteria. Edible, yes. Appetizing, no. Thankfully, our side of Fried Green Beans ($6.99) offered a better balance of originality and taste. While I question the use of "lightly" in the description "lightly onion battered," the beans were nonetheless crunchy and addictive—in a State Fair kind of way.
In all, no need to sing the blues at Slippery Noodle … until night falls and the stage lights up.•
__________
Third in a month-long series of reviews of restaurants that sound wet—just like spring in Indiana.
Please enable JavaScript to view this content.