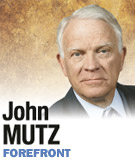 More than 900,000 Hoosier adults do not have the basic skills to succeed in the economy of the future. That's the conclusion of a study commissioned by the Indiana Chamber of Commerce in 2009.
While most policymakers have worried about the quality of our K-12 education system, little has been planned for this huge number of adults who face almost certain failure in 21st century jobs without a comprehensive program designed to upgrade their education levels. Nothing like the "No Child Left Behind" act passed during the Bush administration exists for this forgotten population.
The chamber says the undereducated population consists of adults who have not completed high school, and those who speak little or no English or are working in families earning less than a living wage.
Since the study was released, work force and training agencies have been in collective pursuit of potential strategies that might work. But more needs to be done.
We could consider an approach the United States used in 1944 as World War II ended that was designed to make sure returning veterans had a chance for a college education. It was called the G.I. Bill of Rights and it changed American Society in a most profound way.
Until then, college educations were for the elite and unreachable for most American men. But suddenly the colleges had to increase capacity for students, and thousands of men were pursuing college degrees. Temporary classrooms and housing were seen everywhere on campuses and serious-minded mature men were changing the education levels of American society. It was a giant leap forward for the United States and made our post-high-school education system the envy of the civilized world.
Today, Indiana needs its own version of the G.I. Bill aimed at the undereducated. We should formulate a targeted program that is designed so that no adult is left behind.
Working-age adults in need of education and training in Indiana must chart their course through a complicated landscape of more than 20 programs offered by at least four providers: the Department of Education, Ivy Tech Community College, the Family and Social Services Administration, and the Department of Workforce Development. These agencies, which are funded by state and federal dollars, spend annually about $400 million.
Our state should consider pooling the funds and marketing a statewide program that is available from centralized locations in each county. The local centers could be charged with assessing the needs of each applicant, recommending providers of educational services, and giving each citizen a voucher that could be used to purchase the proper services.
No state has yet tried such a system. Federal waivers would be necessary to move the money into a voucher system and individual agencies would be reluctant to lose control of budgeted dollars. The Obama administration has been intrigued by innovative education reforms and is interested in work force development, so this might be the time to lead the nation in a creative way.
Since the state chamber report was released, more coordinated and effective strategies for educating adults have been gaining traction. So now is the time for the leaders to consider a holistic approach.
Partnerships with business groups could be added. Some funding could come from employers, and a unified marketing program featuring the "No Adult Left Behind" theme could be seen and heard throughout the state.
If the idea catches on, it will be easier to get the Legislature to increase appropriations. Right now, a lot could be accomplished with existing revenue.
Some skeptics wonder if adult Hoosiers will want to participate. The same concern was voiced when the G.I. Bill was passed, but our veterans saw the value of more education.
We should agree on a more ambitious course. At stake are the livelihoods of adults in Indiana and the ability of the state to compete in the global economy.•
__________
Mutz has held leadership positions including lieutenant governor and president of Lilly Endowment and PSI Energy. Send comments on this column to ibjedit@ibj.com.
Please enable JavaScript to view this content.