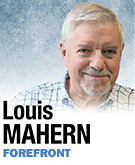 The most important issue facing Indianapolis won't even be discussed in this year's mayoral election. Crime? It goes up and down with the supply of 16- to 25-year-old males. The budget? Sure, it's important and will be discussed ad nauseum. Jobs? Very important but will mostly be discussed in terms of tax breaks and subsidies.
The most important issue facing this community is public education and its future. Except for some talk about how many more charter schools should be created, very little else about education will be considered.
We clearly have a failing inner-city system (Indianapolis Public Schools) and 10 other public school systems in Marion County that may be marginally better but mostly console themselves that, "At least we're not IPS."
Our economic prospects hinge largely on the quality of our schools and of our work force. Prospective managers want good schools for their children and competent employees for their companies. They see neither in Marion County.
Chicago has more than 400,000 students and seven appointed school board members; New York has over 1 million students and a 13-member appointed school board. We have about 130,000 students and 67 elected school board members.
There will be no debate as to whether we really need 67 elected school board members who cost $300,000 a year. These are the 67 school board members for whom less than 15 percent of the registered voters cast a vote. They are the same 67 school board members, any three of whom could not be named by one voter in 20.
These 67 school board members have more to do with the future of Indianapolis than just about any other elected official in Marion County. They hire the superintendent and set the policies for our public schools. They determine the quality of our work force and the future of our children. Yet virtually no one knows their names.
There will be no discussion of whether we need 11 public school superintendents in Marion County at a collective cost of $2 million or 19 assistant, deputy and associate superintendents at $2.3 million.
We won't hear about whether we need so many food service directors, facilities managers, curriculum directors, transportation managers, IT directors, etc. The top 10 administrative positions in the 11 public school systems in Marion County cost taxpayers over $12 million a year. How many different ways are there to feed and transport schoolchildren?
At least 35 cents of every education dollar never makes it to the school building. Could we put that money to better use? We'll never know because it won't be discussed.
The mayoral candidates will avoid these issues at all costs. Not because they're unimportant but because, "It's not my job." Talking about education in a mayor's race will only upset the adults who are the system's primary beneficiaries—administrators and teachers.
Candidates won't discuss education because they don't want to offend parents in the other 10 systems who believe that since their schools have higher test scores than IPS, they must be doing just fine. They don't want to discuss these issues because the adults who are the beneficiaries of the current system vote and the kids don't.
They won't confront the most important issue facing Marion County because they don't have to.
These issues are debated in mayoral elections in Boston, Chicago, New York, Baltimore and half a dozen other cities because the mayor in those cities appoints the school board. It was the overriding issue in the recent mayoral elections in Washington, D.C., and Chicago. In these cities, the mayor is held responsible for the performance of the schools. The mayoral candidates are forced to acknowledge the 5,000-pound elephant in the room.
In cities where the mayor is responsible for education, everyone knows where the buck stops. Everyone knows whom to blame or praise.
In Indianapolis, the responsibility lies with 67 people virtually no one has ever heard of.•
__________
Mahern has been an assistant to U.S. Rep. Andy Jacobs and U.S. Sen. Birch Bayh and served in the Indiana Senate. Send comments on this column to ibjedit@ibj.com.
Please enable JavaScript to view this content.