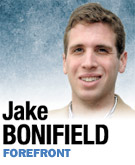 A highlight of every semester at DePauw University, the Ubben Lecture series brings at least one headliner to campus to speak about a current event or topic, or to engage in a debate. Past speakers have included Mikhail Gorbachev, Benazir Bhutto, Margaret Thatcher and Tony Blair.
This year, former U.S. Rep. Lee Hamilton spoke on foreign policy. The topic of the lecture and marrow of Hamilton's message revolved around international relations, but to a partisan ear, his tenor revealed a few things about domestic relations, as well.
Hamilton's speech was full of memorable quotations and sage advice. With the gruff, grandfatherly tone of an experienced diplomat, he sought to frame foreign policy in practical terms, recounting how his counsel had been received by sitting presidents and offering opinions on the crises in the Middle East.
The speech was enjoyable and the content rich, but something else stood out that said more about our condition at home than it did about our prospects abroad. As I walked out of Meharry Hall, where the lecture had been given, it occurred to me that, had I not known Hamilton's political affiliation before the speech, his remarks would not have made it obvious.
The realization was startling. How could someone with such a high profile—a major political figure by any standard—be so nonchalant in weaving across the center line? The answer, Hamilton observed, probably has something to do with his unelected status.
Though the absence of a pending election can certainly induce candor, Hamilton's centrism was anything but new. One of the last of a generation of statesmen whose primary objectives were not framed neatly in partisan terms but couched patriotically in terms of national priorities, Hamilton's brand of authentic analysis was a breath of fresh air.
How do we get back to this? To lament partisanship has become the low-hanging fruit of political punditry. But to blame our representatives for this dilemma is like blaming our cars for speeding in a school zone. We control whom we send to Washington and, although we can't control what they do when they get there, we can send a strong signal. Take the freshman class of lawmakers in Congress, many of whom are purportedly sleeping in their offices as a token gesture that the beltway is not their home.
These gestures are trite. A career in which you have made sincere efforts to reach across the aisle, received appointments by presidents of both parties because of your acumen, and become an expert on an issue of national import—these are the actions we, as voters, ought to reward with our support.
Indiana has a long-standing tradition of embracing just these sorts of public servants. From Birch and Evan Bayh to Hamilton to Richard Lugar, this reliable red state has preferred candidates of both parties whose rhetoric and actions were more purple than partisan. Now, after Evan Bayh resigned due to the same intolerable divisiveness we hoped he might combat, and as Lugar lurches to the right in response to a primary challenge, the list of committed centrists is shrinking at an alarming rate.
Hamilton ended his speech by addressing threats from terrorism to dependence on foreign sources of energy, never bothering to attach partisan preambles justifying why his positions were or were not consistent with his fellow conservatives. They were reasonable, and that's all that seemed to matter.
In the parking lot, as I passed a Buick with an Obama sticker and a pickup with a "Don't Tread on Me" emblem, it occurred to me that there weren't many events at which one could expect both drivers to be present. Later that evening, I watched Hamilton and his wife stop on the edge of campus before driving away, and the image revealed the lesson: an earlier generation leaving our own to inherit the legacy. And not a bumper sticker in sight.•
__________
Bonifield is a political science major at DePauw University and president of Hoosier Youth Advocacy, an organization focused on increasing youth participation in the Indiana General Assembly. Send comments on this column to ibjedit@ibj.com.
Please enable JavaScript to view this content.