In an industry where it often takes three to five years to consummate a deal and as long as a decade to plan and build infrastructure, losing a point person every couple of years isn't ideal.

So when Don Welsh announced his jolting departure as CEO of the Indianapolis Convention and Visitors Association in January, hearts sank among the city's hospitality leaders.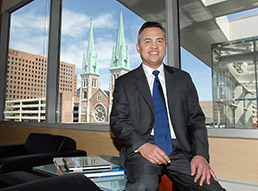 Leonard Hoops, the ICVA's newest CEO, insisted on a five-year contract, which is two years longer than the national industry standard for convention and visitor association chiefs. Hoops was at his previous job 4-1/2 years. (IBJ Photo/ Perry Reichanadter)
"Don was really talented, he had a lot of energy, and made a lot of promises," said John Livengood, president of the Restaurant & Hospitality Association of Indiana. "Then all of a sudden, he was gone. It made a lot of people in this industry here think."

Welsh, 54, held the ICVA's top job for 2-1/2 years, less than half the time of any of his predecessors since the 1970s.

"Everybody thought he'd stay at least through the [2012] Super Bowl," said Bill McGowan, a former ICVA chief who still serves on the board. "The timing of Don's departure was pretty tough."

One of the greatest reasons Indianapolis has succeeded in gunning for ever-larger conventions over the past four decades is continuity in the CEO's office. Until Leonard Hoops was hired last month to replace Welsh, only three other CEOs had run ICVA since 1978, and two in particular drove most of the big construction projects and landed most of the name conventions.

The first chief, Ray Bennison, was on hand when the Hoosier Dome was built to attract a professional football team and the city landed the first of a long string of lucrative conventions for the Do It Best hardware chain.

His successor, McGowan, built the relationships that helped Indianapolis land many of the downtown hotels. He lobbied for and planned many of the skywalks that are one of downtown Indianapolis' trademarks.

McGowan also oversaw three convention center expansions, helped then-Mayor Bill Hudnut and his staff lure the Baltimore Colts to town, and was part of the first effort to put Indianapolis in the running for a Super Bowl in 1992, an idea that until then seemed preposterous.

McGowan was followed by Bob Bedell, a consummate salesman who helped bring a wave of major conventions—including Gen Con, Performance Racing Industry and National FFA. He also continued McGowan's work of expanding the city's hotel portfolio—including putting the Marriott Place Hotel in place by showing the need for a true convention headquarters hotel to be built simultaneously with the expansion of the convention center.

In 2004, Bedell pushed for a feasibility study on expanding the convention center and building Lucas Oil Stadium, and spearheaded the campaign for approval and funding from the Indiana General Assembly on the projects and passing a 1-percent increase in the tourism tax to fund the $1 billion needed for both projects.

Bedell later helped lobby the National Football League for a Super Bowl, scoring the big game for Indianapolis in 2012 and capping an effort begun by McGowan and other city leaders more than 15 years earlier.

Welsh was hired in part to sell what McGowan and Bedell had built through nearly a quarter century of leadership.

The lengthy tenures—and Welsh's abrupt exit—caused more than a few eyebrows to rise when the ICVA executive committee opted for a headhunter to conduct a national search for his replacement. In 2008, some ICVA insiders had lobbied to look for a local person to replace Bedell.

The hiring last month of Hoops, vice president of the San Francisco Travel Association, to replace Welsh did little to allay fears the organization had developed a revolving door.

Hoops, 46, is regarded as a rising star in the hospitality industry, being named among the "25 Most Extraordinary Minds in Sales & Marketing" by the trade group Hospitality Sales & Marketing International.

Hoops has just the kind of pedigree that makes him attractive to a city like Indianapolis. It also will likely make him attractive to even bigger cities in years to come.

"He has all the contacts and Tier I experience he'll need to succeed here," Livengood said. "But we need a leader of this organization who thinks three, four, five, 10 years down the line. I hope [the ICVA] got some assurances that [Hoops] won't be coming here as a way station on the way to something else."

Revolving door?

For a city whose convention and tourism business has been built through a steady, long-term approach to leadership and development, the prospect of high turnover at the top of the ICVA is especially tough.
"Since these events can be booked years out, conventions planners want to make sure the direction the city is headed, its commitment to conventions and other events, is consistent," said Dirk Ebener, CEO of Atlanta-based NuernbergMesse North America, which represents more than 100 trade shows globally.

Hoops, who also has made professional stops in Sacramento and San Jose, Calif., insists Indianapolis is not a stepping stone to a better job.

He signed a five-year contract, and ICVA Chairman Michael Browning said he hopes to be working on an extension in three years.

The length of Hoops' contract, which is two years longer than the standard for a convention and visitors bureau CEO, is something both he and Browning insisted on, Hoops said.

"If Indianapolis is what I think Indianapolis is, and the stakeholders and the product here are what I think they are, and I am what [the ICVA board of directors] thinks I am and I can achieve my objectives, I think I'll be here a very long time," said Hoops, who was in San Francisco 4-1/2 years.

Hoops, who officially takes his new job in late May, said he will move his wife, Dorene, and their 6-year-old son, Cannon, to town this summer after the school year ends.

Hoops' contract has not been finalized, but ICVA officials said his salary would be on par with Welsh's while he was here. Welsh made $280,000 annually and was eligible for a $56,000 incentive bonus.

The history of continuity at ICVA had some board members asking if the best approach this time might be to promote from within or look for the best executive within the city with a high level of institutional knowledge and historical perspective about central Indiana.

In the end, "the ICVA executive committee wanted someone with experience running a sizable [convention and visitors bureau]," Browning said.

With the approaching Super Bowl, the new airport, added space in the convention center and Lucas Oil Stadium, Browning said it was imperative to hire "the absolute very best person we could get. Are there some risks? Sure. But we feel there are more risks with hiring a local person with less experience in this arena. And we think the potential payoff with Leonard is tremendous."

With Welsh, the risk of his premature departure certainly proved substantial, but the rewards from his time here, too, were significant.

Brief legacy

Welsh, who came from Seattle in July 2008 and left to become CEO of the Chicago Convention & Tourism Bureau, was in Indianapolis long enough to help get more grants and taxes to promote the city to potential visitors—even as the city struggled through a difficult economic period. He also helped promote the new midfield terminal at Indianapolis International Airport and Lucas Oil Stadium, and helped guide the city through its most recent Indiana Convention Center expansion and renovation, a $275 million project that grew the space from the nation's 32nd- to 17th-largest.

Welsh was instrumental in getting boosts to the ICVA's marketing budget at a time the city Capital Improvement Board, which provides 70 percent of ICVA's funding, was dealing with a $47 million budget shortfall. He was also key in winning a $5.4 million grant from the Dean and Barbara White Family Foundation Inc.

During Welsh's watch, the ICVA also secured an extension to retain the massive FFA convention and helped sign an unprecedented deal with the fast-growing International Motorsports Industry Show, assuring the show would stay here indefinitely.

When Welsh began at ICVA, he predicted the city's $3.6 billion convention and tourism industry would be $10 billion within 10 years. He also predicted that, due to the city's convention growth, another 1,000-room hotel room in addition to the newly opened JW Marriott would be needed by 2014. Welsh promised to use the 2012 Super Bowl as a springboard to massive growth in the city's convention and tourism business.

But Welsh left just as the convention center had doubled the space it offers to sell and a month before the 1,005-room JW Marriott opened—flooding the market with hotel rooms to fill, and as Super Bowl planning was kicking into high gear.

And while he helped reorganize and expand ICVA's sales efforts, he wasn't in town long enough to see those efforts pay full dividends.

"With all the new hotel rooms and convention space coming online, this is a critical time to be filling the ICVA's top job," said Tim Worthington, a 35-year hospitality industry veteran who is president of locally based Platinum Hotel Solutions. "There are a lot of people who are nervous, and waiting to see which direction this goes."

Culture shock

The shift from Bedell to Welsh caused some culture shock that might still be rumbling through the association.

Welsh was a fast-talking, hard-charging salesman and administrator known to be turbo-charged by a constant stream of highly caffeinated coffee. Welsh reorganized the staff to be more sales-oriented—expanding offices in Chicago and Washington, D.C.—and chased beggars off city streets with equal fervor.

"Don is a bulldog," McGowan said. "We knew that coming in. He took on the tough issues."

Under Welsh, turnover among ICVA's approximately 60 staffers approached 30 percent, including a top salesman and several administrators, according to sources close to the ICVA.

Welsh made a number of new hires, including locals and non-locals. It's not yet clear how many will stay. So far, only Warren Wilkinson, senior vice president of marketing, has departed, following Welsh to Chicago.

"We'll keep staffers because the product here is terrific," McGowan said. "And there's a lot of stability in terms of the board and from its chairmen—people like Jim Morris, Jerry Bepko, Jerry Semler and Michael Browning."

Most ICVA board members and local hotel and restaurant officials liked Welsh's style because it was largely effective.

Hoops brings his own distinctive style—methodical, patient and a tireless promoter—one that has gotten largely positive reviews.

Hoops plans to take 100 days to evaluate the city's tourism and convention scene and ICVA's inner workings before launching major initiatives.

After the evaluation period, Hoops said, there likely will be changes, but not for the sake of change. He said ICVA's "Changing the Game" brand strategy and the types of conventions the city pursues will be scrutinized.

"I'm not a shoot-first-ask-questions-later kind of guy," Hoops said. "I don't have preconceived notions."•