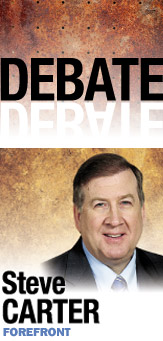 As the pace of transition in society accelerates, Indiana stands alongside the 49 other states lined up, ready to compete. Cultural, social, economic, technologic, religious and political changes from past norms will present great challenges.
Beyond every difficulty, though, lies an even greater opportunity. Characteristics of leadership will determine how well any Indiana person, group or institution succeeds as we seek to take advantage of our opportunities.
Our state will best address our future needs by fostering engagement, confidence with optimism, and accountability. These three characteristics, if promoted by Indiana's leaders, will help us display and develop the best in our citizens.
Engagement comes first. In some ways, we all feel better connected in today's world. Other times, we see human contact pushed aside by technology as our primary means of interaction. It's easy to handle information overload by tuning out and turning our devices off.
Indiana's future, though, will happen whether we are tuned in or not. With fiscal and social pressures increasing, we can't afford the high price we will pay if many of us are not engaged. Look around our state: None of us lives on an island. We will pay for physical and social infrastructures our entire lives. Shouldn't we also get involved to see that they satisfy our increasing expectations?
Civic involvement, be it governmental participation, military or social service, or exercise of religious freedoms, is an opportunity paid for by our forefathers. Remember Teddy Roosevelt's clarian call to be "in the arena" of life and not just watch issues arise, then claim we are incapable of impact?
A second trait we need is confidence rooted in optimism based upon Indiana's strong performances in the past. We reflect on the sesquicentennial of the Civil War and the pre-eminent role of our favorite son, Abraham Lincoln, in maintaining our continued union. Take comfort knowing that when Lincoln called, no state (on a pro rata basis) offered more to serve than Indiana. Those who stepped forward had no certainty of an outcome. Their hearts, though, felt with certainty that the cause was worthy.
For the futures of those who call Indiana home, the causes we now face may be just as consequential. Oppressive public debt, emerging global competitors, necessarily rising education expectations, renewed age-old religious conflict—who can say Indiana is immune from these?
Confidently, though, who would dare say that Indiana can't take on big issues successfully, as in the past? With good will in our hearts and good use of our talents, a collective optimism should push us to see a problem and say, "Let's get moving to fix this."
Accountability, the willingness to face the consequences for decisions and actions, tells us our progress is monitored. When it's good, we're encouraged to stay the course. When it's not good enough, being held to account tells us to change, which ultimately leads to better performance.
It's easy to see the failings of another person, another philosophy, another political party. It's tougher, though, to see the error of our own ways, our own beliefs or our own political allies.
But account we must, lest we continue down an unsatisfactory course. Enhanced creation, collection, retention and transfer of information make it easier to be held accountable. We just need to make sure we trust others with that information. Better-informed observers can offer more constructive criticism, benefiting us all.
Though the pressing needs of the day, the year, the decade will change, fundamentals of success will not. Engagement, confident optimism and accountability will lead us to success as we meet those needs for Indiana.•
__________
Carter was Indiana attorney general from 2001 to 2009. Send comments on this column to ibjedit@ibj.com.
Please enable JavaScript to view this content.