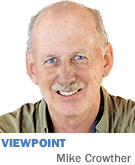 Central Indiana is the best place I've ever lived and worked because we have such a great balance between our lack of cynicism and our lack of naïveté. We're not so cynical that we believe things can't get better, and we're not so naïve that we think they're bound to. I think that's the basis for what many of us consider Hoosier values.
I've been a Hoosier for almost nine years, and there is no question that the behavioral culture of central Indiana is significantly different from that of the Philadelphia area, where I spent most of the previous decade. To our family, one of the most notable differences is the way in which that cultural foundation is revealed through interpersonal communication. I think there's an underpinning of caring for our families and our communities that is perceptible to outsiders as "something different."
There's no question that we're not all "the same," but there really are Hoosier values that are revealed in our tendencies. One of those tendencies is a leaning toward thoughtfulness rather than knee-jerk reaction, another is that basic caring I mentioned, and a third is a recognition that good outcomes require some form of investment, such as work and capital.
I'm hoping those tendencies will come together to create a powerful force that will help define the future we hand off to the next generations. I believe that we owe them a future they would choose to live in, not one they are forced to endure, and I'm convinced that future should include forests, mountains and plains; rivers, lakes and oceans; butterflies, bears and belugas.
The most recent Red List of Threatened Species shows that 17,291 species out of the 47,677 assessed are threatened with extinction. And it's not just obscure cave- or ocean-bottom-dwelling invertebrates; nearly one out of every four mammal species is at risk of disappearing forever. We need the leadership, values and commitment of our community to ensure that our wildlife heritage isn't irreparably diminished.
The good news is that we can make a difference. I just returned from Uganda, Rwanda and the Democratic Republic of Congo, where I learned that a seven-year research project has clearly demonstrated the impact of "extreme conservation" on mountain gorillas. There are only about 780 mountain gorillas left in the world, and they fall into two categories: habituated, monitored groups, and unhabituated, unmonitored animals.
The population of habituated, monitored groups has increased 29 percent over the past seven years, but the unhabituated, unmonitored groups have declined more than 5 percent. The anti-poaching patrols, veterinary intervention and other programs that Hoosiers and others are leading and supporting for the monitored groups are making a real difference.
The world's leading award for animal conservation bears the name of our community. The Indianapolis Prize gives successful animal conservationists both a $100,000 cash award and a platform from which they can expose both their needs and their solutions. After the 2006 Indianapolis Prize Gala, an influential philanthropist approached me and said, "Mike, before tonight, I knew next to nothing about animal conservation and cared about the same amount. But going forward, I think it's going to be the most important thing in my life."
I am aware of a number of people from Indianapolis who have made several million dollars in direct contributions to field conservation projects, and our city's name is becoming recognized in conservation circles throughout the world.
It's a great start, but we have to take it further. We don't need extremists on either end of the conservation spectrum to keep upsetting the sustainability of the natural world, though. We need futurists, people with a sense of balance, people who want generations to come to be blessed with the same riches we grew up with. That requires innovation, leadership, responsibility and thoughtful action.
In other words, I'm pretty sure the future needs more Hoosiers.•
__________
Crowther is CEO of the Indianapolis Zoo.
Please enable JavaScript to view this content.