Parental advisory: This review contains suggestive language and encourages poor dining habits.
Why the warning? That will be evident shortly. In the meantime, call a sitter and get yourself to H2O Sushi (1912 Broad Ripple Ave., 254-0677)—for dessert. And if you have some room left, you might want to try some of the excellent dinner options, too.
My dinner companion and I went the traditional appetizer-dinner-dessert route, and although we crossed the finish line, it wasn't easy. Amateurs wouldn't stand a chance.
So do yourself a favor and start with co-owner Nicole Anderson's sublime Oatmeal Shagbark Pecan Cookies ($6.50), served in hot-from-the-oven pairs alongside a scoop of ecstasy-inducing espresso whipped cream. (And stop the server before he tells you it's decaffeinated. That takes a bit of a shine off the buzz.) Her housemade ice cream ($6.50) also is a must-have. I got the last of the subtlely spicy batch of jalapeno.
Before becoming intimately familiar with H2O's dessert pleasures, we started with the Black Edamame ($5), a yummy twist on the ubiquitous soybean appetizer. Rather than the standard sprinkling of kosher salt (if you want that, order yours "green"), the cooked bean pods are tossed in a sweet hoisin sauce with diced scallions and garlic. Another variation, dubbed Suzy, offers a spicy jalapeno-cilantro sauce. As with almost any finger food, it was a bit messy, but so good.
For variety's sake, we tried the Pork Bun ($4),
which promised a steamed bun filled with pork belly, homemade pickles, scallions, spicy sriracha sauce and the sweet hoisin. The thick-cut belly resembled undercooked bacon, but it practically melted in our mouths, leaving behind a porky goodness that had us wanting more. (Two more, to be exact.)
Next, we turned our attention to the sushi rolls, likely the main attraction for most diners. And that's where we discovered our inner 12-year-old boy, lurking among the creatively named menu options. We giggled at the T&A, snickered at the Spicy Tush and barely kept a straight face when ordering our choices: the Crazy Ho ($13) and Buttery Nipple ($11). Heh heh. We just couldn't resist.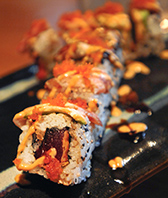 The Crazy Ho Roll is one of the carefully named choices at H2O Sushi on Broad Ripple Avenue. (IBJ Photo/ Perry Reichanadter)
They turned out to be delicious as well as amusing. The Ho aims to please almost any palate, "wrapping" spicy tuna, wontons and rice in thin slices of crab, avocado and eel, and topping the whole shebang with spicy sauce and tiny orange fish eggs. Each of the eight bite-sized pieces was a veritable explosion of flavor. Given the promise of dessert ahead, we managed not to ask for mo' Ho.
We identified the Nipple from its appearance (a photo of which isn't suitable for a family newspaper, parental warning or not), thanks to the use of two spicy sauces artistically arranged to resemble its namesake body part. The taste was more subtle, with yellowtail, sweet onion and scallion inside the seaweed and rice roll. The masago caviar coating added some salt and snap.
Of course, not everything on H20's menu is as titillating. Some of the sushi rolls have more ordinary monikers (and several feature cooked fish), and there are non-sushi options, liked Grilled Shrimp Tacos ($9) and Pork Ramen ($11).
Everything we tried was outstanding, and we were proud members of the clean plate club—even when it hurt. So, yeah, next time we're going to take our own advice and start with dessert.•
—Andrea Muirragui Davis
__________
Last in a month-long series of reviews of restaurants that sound wet—just like spring in Indiana.
 
Please enable JavaScript to view this content.