If there's one word I don't want to use to describe a $50 lunch, it's "fine." Unfortunately, that's the best I can do after my inaugural visit to Indonesian eatery Garuda (653 E. 52nd St., 920-8121). And fine just isn't reason enough for me to go again.
I'll be the first to admit that I'm no expert on Indonesian food. So I can't weigh in on Garuda's authenticity other than to say it doesn't offer tempeh, a traditional fermented soybean dish that a colleague asked me to bring back.
The menu is fairly limited, with just two appetizers, soup, salad and fewer than 10 entrees. There's nothing wrong with that—I've found a small menu often is the calling card of a chef who doesn't want to overreach. But I'm not sure that's the case here.
We tried both appetizers: Lumpia ($5.95), a pretty standard variation of a fried egg roll, and Sate ($4.95), four skewers of marinated and grilled chicken (beef, vegetables and shrimp are also available) that's supposed to be served with a peanut sauce. Ours wasn't, and though we ordered the Sate for carryout, we still expected all the components to be there. Without the sauce, it tasted like something the average Hoosier could make on his backyard grill.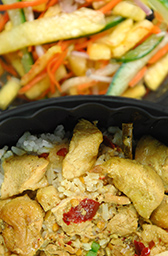 The Indonesian Curry Chicken from Garuda works best when paired with the pineapple-heavy Acar Salad. (IBJ Photo/ Perry Reichanadter)
Hoping for something more exotic than fried rice or lo mein noodles—the first two entrée choices—we opted for the Kare Opor (Indonesian Chicken Curry, $11.95) and Sambal Goreng (Spicy Sambal Coconut Dish, $12.50). Our meals looked nearly identical, with the exception of a few snow peas sprinkled on top of my Sambal Goreng.
Oddly enough, the Chicken Curry had more flavor than my Sambal Goreng. The chicken chunks, presumably yellowed by the curry sauce or unnamed "Indonesian spices," were served atop a bowl of sticky rice. Had it been scooped up from a buffet
line, we would have used that word, "fine," and moved on to try something else.
I asked for the Sambal—which I later discovered is named for a chili-based condiment—to be prepared at the top of the "hot" scale, despite our server's skepticism that I could handle the heat. Apparently the chef wasn't a believer, either, since the result was as bland as the soggy white rice underneath it.
At least mine came with a small Kubis Kalapa Salad, shredded cabbage billed as a "fresh take on Indonesian salads." Tasted like underseasoned coleslaw to me. My companion had to pay $4.50 for the similarly sized Acar Salad, which was indeed a refreshing mixture of pineapple, cucumber and carrots.
In hopes of finding a winning dessert, we tried the Pisang Goreng ($3.50), fried plantain chips said to be served over a Nutella and caramel sauce, and sprung for the homemade coconut ice cream for another $2. We got three stingy slices of the fried fruit, a miniature scoop of grainy ice cream, and what tasted a lot like chocolate sauce stored in a metal can—not the chocolate-hazelnut dream that is Nutella.
Were we full? Sure. Satisfied? Eh. My opinion: Garuda is going to have to deliver more than just "fine" food to survive in a SoBro neighborhood already populated with some darn good restaurants.•
__________
First in our month-long series of reviews of newer ethnic eateries.
Please enable JavaScript to view this content.