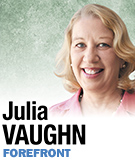 With the most unusual and controversial legislative session in recent memory adjourned, it's time for the usual analysis of who won and who lost at the Statehouse. I'll leave it to others to decide which interest group got the shortest stick, although the list of contenders is long. From Planned Parenthood to public schools, the 2011 session was one where several old scores were settled.
Unfortunately, the public interest took some licks this year, too, most notably in the redistricting process. Although the Republican leaders pledged to be fair and transparent with redistricting, they rushed the new maps through the process while providing only sketchy information about how they determined where the lines would fall.
The trouble began when the chairs of the House and Senate election committees ignored requests by Common Cause/IN and our allies for detailed political and demographic data about the new districts. We requested the information because Democrats claim the new House maps will dramatically reduce the number of competitive races in that chamber to fewer than a dozen.
That's a big concern, since already about a third of incumbents in the House are re-elected without major party opposition. Concerns have also been raised about the way minority voters are divvied up in some urban areas; without background information, those concerns about Voting Rights Act violations are difficult to address.
The word "competitive" was conspicuously missing as Republicans described their proposed maps. Instead, they embraced compact districts that respect communities of interest. Predictably, the two parties could not even agree on what kind of community deserves respect, with Republicans building their districts on counties while Democrats used townships. Of course, each approach is designed to produce a different political outcome, but that was left unsaid.
While the majority caucuses should be commended for holding nine public meetings around the state, the outreach would have been more meaningful had it occurred both before and after the new districts were unveiled. And, the meetings should have been structured to build consensus around which redistricting criteria—concepts like compactness, communities of interest, and political competition—are most important to voters.
It would be wonderful if Indiana had conducted an extensive grass-roots dialogue, but that simply did not happen over the course of a couple of days and a handful of meetings. To pretend it did cheapens the debate and casts doubt on both motive and outcome.
Further, to promote full transparency, map-makers should have provided both visual maps of individual districts and a written description of how and why they arrived at each boundary. We ask math students to show us their work; the same requirement should apply to legislative map-makers. Just trust us to be fair is not enough assurance when political power is at stake.
The new maps, particularly those for Congress and the Indiana House, will mean big changes for many Hoosier voters. Unfortunately, since the maps were rushed through the legislative process in only 17 days, most voters won't realize their districts have been altered until election season starts next year and they get mailings from candidates they don't recognize.
Most bills spend months on the legislative docket; it is unfathomable that redrawing the building blocks for a decade's worth of elections sailed through the process in less than three weeks.
To their credit, House Republicans ended years of redistricting tradition by not drawing districts around incumbents; this "incumbent blind" approach is how we end up with numerous new House districts that have no incumbent, and several others that pit incumbents against one another.
While this was a refreshing reversal of past practice, it was an isolated change. Despite all the rhetoric about fairness and transparency, the 2011 round of redistricting remained shrouded in secrecy and conducted mostly behind closed doors.
Only time will tell if the new districts are good for voters, and that's the problem; we shouldn't have to wait to find out.•
__________
Vaughn is policy director for Common Cause/Indiana, a nonpartisan citizens lobbying organization that works for open, honest and accountable government. Send comments on this column to ibjedit@ibj.com.
Please enable JavaScript to view this content.