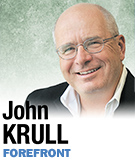 Not long after Democrats brought state government to a standstill by walking out of the Indiana House of Representatives and staying away for five weeks, a source from my days as a political reporter offered this lament.
"In the old days," he said, "it never would have gone this far. You guys would have been the referee, the umpire, the judge—whatever you want to call it—and forced one side or the other to back down."
By "you guys," he meant the Statehouse press corps.
I'll admit, sentimentality tends to inflate the musings of old guys—and he and I are both of a ripened vintage.
That said, he had a point—one lawmakers, lobbyists and other lifers at the Statehouse echoed when I talked with them. In regard to journalists covering state government, things have changed.
Some of the change can be attributed to newsgathering organizations' tighter margins and diminished resources. When I covered state government for The Indianapolis News and The Indianapolis Star nearly 15 years ago, there were times the papers had seven or eight people assigned to tracking the action in the Legislature alone.
Those were the days of plush profit margins for newspapers, in particular. When the margins began to get thin, so did the staffing.
Now, the entire Statehouse press corps is just slightly larger than the team The Star and The News used to send over. Having fewer reporters means having fewer stories. And fewer stories means news organizations can't exert as much weight as they once did.
Some of the change also has to do with penetration. Most of the state's news outlets have held steady in regard to the number of readers and viewers they reach, but—like most newsgathering organizations around the country—they haven't kept pace with the population growth in the communities they serve.
"Most of us just don't think they have the clout they used to," another old source said, referring to news organizations.
One might expect those involved in the political process to gloat about the demise of the journalistic gadfly—and I did hear a little bit of that—but most of the folks I talked with expressed concern.
They said the press in more prosperous days provided a moderating influence on the process. A strong and vibrant press corps helped to keep things within bounds.
Without that moderating influence—that referee, to use my old source's phrase—we're likely to continue seeing more and more breakdowns in the process similar to the walkout that stopped this legislative session cold. Without someone to ring the bell and call out the low blows, there isn't much stopping political tussles from escalating to fights and then to brawls.
Before we write an obituary for the traditional Statehouse press corps, though, we ought to note that none of the folks who talked with me about the newsgathering organizations' diminishing clout were eager to go on the record. They still had a healthy respect, tilting toward fear, for news organizations' power.
"Just because I don't think bad coverage in The Star can kill me anymore doesn't mean that I don't think bad press can hurt me. I know it can," one lawmaker said.
During the Indiana General Assembly session that just ended, journalists spent a lot of air time and ink tracking the changes in the reach of labor unions, in the ways that we will educate children in this state, and in Indiana's budget priorities.
These were all big, important stories. And they all were, by and large, covered well.
But a story that was just as big and just as important but much closer to home for those journalists slipped by without much notice—namely, that the press corps' part in the political process also has changed and likely will keep on changing.
The referee's whistle just isn't as loud as it once was.•
__________
Krull directs Franklin College's Pulliam School of Journalism and hosts the weekly news program "No Limits" on WFYI-FM 90.1. Send comments on this column to ibjedit@ibj.com.
Please enable JavaScript to view this content.