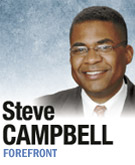 After spending most of my professional life in politics, I have spent the past several years on the outside looking in. This may be a cliché, but on the outside, I have learned even more about what real people truly pay attention to. The latest comes from the current labor impasse and on-again, off-again lockout in the NFL.
For those of you following truly more important things, this topic is dominating the national sports airwaves, as pundits spend countless hours dissecting press statements, legal briefs and court decisions. The Indianapolis media is just as tuned in as they wonder if any of this will affect our 2012 Super Bowl. In the sports world, there is barely another story.
I should know; I'm an overly obsessed football fan and sports radio junkie. I check anywhere from five to 10 NFL websites daily and soak up any bit of football info I can find.
And like all good Hoosiers, I also love my Indianapolis Colts. This year will be my 16th as season-ticket holder. I literally surfed the crowd of Section 313 at the RCA Dome when Marlon Jackson picked off Tom Brady to put the Colts in Super Bowl XLI. (I'm quite sure I was the first, and probably last, sitting deputy mayor to accomplish such a feat!)
And when people ask about my dream job, I always respond that it's with either my beloved Colts or my childhood favorite Redskins.
Seriously, I may have a problem.
Finally, I am an attorney—not an active one, mind you, but one with a license and understanding of the law.
Put this all together, and I'm exactly the kind of person who should care deeply and should be following every detail of this situation. But I don't, and I haven't. I just want football on Sundays.
On day one of the lockout, both sides had what we call in politics "dueling press conferences." NFL lead attorney Jeff Pash and players' association chief Dee Smith took to the airwaves to declare how their side had been wronged and how their side was looking out for the fans.
After listening to both sides, my eyes glazed over, a yawn escaped my lips, and I turned the station to find out who was starting for the Indiana Pacers in the next game.
My mind immediately turned to my former life, and I wondered: "Is this how the rest of the world looks at politics?"
You see, in political office, every battle is all-consuming. It feels like every fight is the fight of your life. "Winning isn't everything; it's the only thing" is what Coach Lombardi said about football, but it applies to politics, as well.
When we have an impasse, Republicans and Democrats trot out their leaders to declare how their side has been wronged, and how their side was the one looking out for the fans, or in this case, the taxpayers. We saw this play out daily throughout this past legislative session.
And sure, reporters will always show up, because there's nothing they like more than a good fight. But on the outside, I've learned what everyday people have known for years: Unlike the media, we don't pay attention to the fight.
It didn't help that ridiculous issues—like birth certificates, hollow attempts at immigration reform, scapegoating of Planned Parenthood, and completely unnecessary marriage and gun laws—continued to hog the Statehouse spotlight.
This is not to say public debates aren't important; they are. It's not to say that our leaders shouldn't stand up for their beliefs and convictions; they should.
This is just a reminder to my colleagues still in the business that while the battle du jour feels like the most important fight in the world, everyday people really do tune out the back-and-forth. Because at the end of the day, we just want a reasonable solution. Most of us just want football on Sundays.•
__________
Campbell, president of Campbell Strategies, was a deputy mayor under former Indianapolis Mayor Bart Peterson. Send comments on this column to ibjedit@ibj.com.
Please enable JavaScript to view this content.