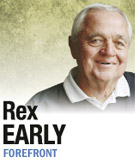 A recent New York Times contributor to Forefront stated that "The GOP stage is empty"—WRONG!
We have a cadre of qualified conservative Republicans who are electable, and at last check, all had U.S. birth certificates.
First and foremost, I am a card-carrying member of the Run-Mitch–Run Club. I truly believe Mitch Daniels can be nominated and elected.
By the time you read this, I would guess Mitch will have announced his intentions.
Until last week, I was for Haley Barbour (if Mitch didn't run).
Four years ago, I was for Fred Thompson. I had a fundraiser for him. I contributed $2,300 and took him to an Indianapolis Colts game, and he quit the race with my $2,300. My horses don't even get out of the gate.
This year, it's going to be different. We have an abundance of candidates.
Along with Mitch, I like Chris Christie and Newt Gingrich. They are all conservatives. All three have the guts to take on Obama, and all three can excite the voters.
Close behind those favorites is Tim Pawlenty and Marco Rubio. Pawlenty, a former Minnesota governor, is the real deal.
Marco Rubio is the popular U.S. senator elected in Florida. He says all the right things. He also is a fighter, beating not only the Democrat in the fall, but also the Republican-in-name-only governor who gave up all pretense and ran as an independent.
Congressman Paul Ryan is the man with a plan and it's a good plan. The Tea Party likes him.
Former U.S. Sen. Rick Santorum is one of the darlings of social conservatives. He would make a great vice president. He would help the Mitch ticket.
I love Michele Bachmann, the congresswoman from Minnesota, and Sarah Palin. They are both conservative and Tea Party favorites.
The leader today with the highest name recognition is Mitt Romney. He has changed his mind on several key issues and is the author of Romneycare. It will be tough for him to be nominated.
Mike Huckabee, a nice guy with lots of name recognition, will not get through the primary. He might end up in Washington playing the bass at the inaugural ball.
I agree a lot with Ron Paul. The Libertarians love him, but he can't get through the primaries.
Donald Trump is an anomaly. He's got the guts and the money to take on Obama head-on. (I wish our Republican leadership in Congress had Trump's guts.) I, like others, agree with what he has to say, but can he be our next president?
I spent an hour with him in the early 1990s. We were both being roasted by the Indianapolis Press Club and were at a pre-roast gathering. I don't remember what he said because I was busy admiring his wife No. 2, Marla Maples.
I do remember wondering if he would be affected like Samson if he fell down and broke his hair.
Thinking out of the box, there is a great group of conservative Republican governors who believe in limited government and reduced spending.
How about Florida Gov. Rick Scott? He turned down $2.4 billion of federal funds to build a high-speed rail system. He's blunt and tough.
Louisiana Gov. Bobby Jindal. They love him in Louisiana.
Texas Gov. Rick Perry. Their economy is booming, thanks to a combination of low taxes, reasonable regulatory structure and a fair court system.
Virginia Gov. Bob McDonnell, a University of Notre Dame grad who served in the Army's 2nd Armored Division, is challenging the Obama health care plan in court.
I could vote for any of the names I mentioned. Come to think of it, I would vote for Charlie White, regardless where he is living, before I would vote for Obama.
Don't think that an absence of a front-runner at this point is a sign of weakness. It's still early. The mushrooms have just come out and turkey season has just started here in Indiana, so we have been busy.
Don't worry. It won't be long before we let the dogs out from under the porch.•
__________
Early served in the Indiana House and as a Republican state chairman, as well as on the Republican National Committee. Send comments on this column to ibjedit@ibj.com.
Please enable JavaScript to view this content.