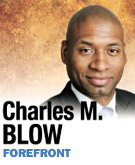 President Barack Obama buckled.
Last month he released his long-form birth certificate, but not without chiding the media and his detractors for their "silliness" in forcing the issue.
No sooner had he released it than Donald Quixote was off to his next windmill: the president's college grades.
Donald Trump is still playing to suspicions of Obama. And it's no longer theoretical. It's theological. For them, truth is no longer dependent on proof because it's rooted in faith: faith that American exceptionalism was never truly meant to cover hyphenated Americans; faith in 400 years of cemented assumptions about the character and capacity of the American Negro; and faith that if the president doesn't hew to those assumptions then he must be alien by both birth and faith.
This is how the moneyed interests—of whom Trump is one—want it. That is how sleight of hand works: distract and deceive. They need this distraction now more than ever because the right's flimsy fiscal argument—that if we allow fat cats to gorge, crumbs will surely fall—is losing traction.
It's losing traction with voters as the Supreme Court continues its crusade to put corporate interests above those of citizens. Just last month, it ruled that there is a way for businesses to keep consumers claiming fraud from banding together in a single class-action lawsuit.
It's losing traction among workers. Gallup reported that a majority of Americans worry that they won't have enough money in retirement.
It's losing traction among young people as it was reported last month that the unemployment rate for workers ages 16 to 24 reached a record high last year, according to the Economic Policy Institute.
It's losing traction with families as the national average price of a gallon of gas is nearing $4, while oil companies are reaping record profits while taking billions of dollars in government subsidies.
It all loses traction as more Americans begin to see the far right for what it truly is: a gang of bandits willing to sacrifice the poor and working classes to further extend the American aristocracy.
So the right needs to backfill its shaky fiscal reasoning with political segregationist rhetoric—amplifying a separation of the "us" from the "other."
State Sen. Jake Knotts, of South Carolina, last year called Obama—along with the state's governor Nikki Haley, who is Indian-American and a Republican—a disparaging slur. When pressured to resign, he refused, proclaiming that: "If all of us rednecks leave the Republican Party, the party would have one hell of a void." Do tell.
This is not to say that all Republicans are tolerant of this behavior. Far from it. But the party has taken the strategic position that in some cases it's politically advantageous to allow demagogues and xenophobes, sectarians and homophobes to not only see the party as a sanctuary but as a place to rise to its top.
In 1965, the Rev. Martin Luther King Jr. described how the strategy of separating people with common financial interests by agitating their racial differences was used against the populist movement at the turn of the century, explaining that "the Southern aristocracy took the world and gave the poor white man Jim Crow."
He continued that Jim Crow was "a psychological bird that told him that no matter how bad off he was, at least he was a white man, better than the black man." He called this "their last outpost of psychological oblivion."
But the right, with a new boost of energy from Trump, is reaching for new frontiers. The language and methodology are different, but the goal is the same: to deny, invalidate and subjugate, to distract from real issues with false divisions.
Trump is helping the right shape new weapons from old hatreds, forming shivs from shackles, all the while patting himself on the back and promoting his brand.
But his point of pride is the right's mark of shame.•
__________
Blow is a New York Times columnist. Send comments to ibjedit@ibj.com.
Please enable JavaScript to view this content.