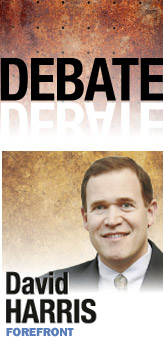 Question: How will education reform affect teacher compensation?
Answer: If we truly want to transform education for our city's students, we need to pay great teachers dramatically more than we pay them now. Why?
First, they deserve it. Of all the school factors that affect how much students learn, nothing is more important than the quality of the teachers in their classrooms. Students with great teachers learn vastly more than their peers with less-effective instructors—three times more according to some studies.
Think about that: A student with a great teacher will leap ahead 1-1/2 grade levels. That student's peer with a struggling teacher will eke out only a half-year's worth of progress. That difference, according to researchers from Harvard University and elsewhere, is enough to close the enormous achievement gaps between well-off and low-income kids in less than four years. As a community, how can we not pay a great teacher substantially more for that amazing contribution?
Second, we should pay the best teachers more because doing so could transform the profile of who becomes a teacher and who stays in the profession. Money isn't the only thing on the minds of bright college graduates, but it's certainly a factor. Talented people earn much more in fields like law, medicine and business.
And they approach the top levels of the pay scale more quickly: In 10 or 15 years, according to one Duke University study, versus more like 30 in teaching. It's no wonder the proportion of new teachers coming from the highest ranks of students has declined in the United States and is far lower than in other nations that outperform us on international exams.
Paying great teachers more could also affect who stays in teaching. Nearly half of new teachers leave urban classrooms within three years, just as they are beginning to have the strongest impact on student learning. For some, more pay might tip the scales in favor of staying.
It's well and good to call for higher pay for great teachers. But where should the money come from? After all, our state is facing a severe budget shortfall. I believe we need to find the resources to pay great teachers more. But even in this time of challenging budgets, we can pay teachers much more if we're creative about finding new efficiencies and embracing new teaching innovations.
First, we need to cut waste from central offices—where research shows bureaucracies often absorb more than 40 percent of every dollar. We could then redirect some of the cost savings to the school level and give principals the freedom to invest more in great teachers.
Second, we need to think more creatively about the teaching profession. Researchers from the organization Public Impact argue in a new report called Opportunity at the Top that our current one-teacher-one-classroom model is inefficient, and that we should come up with innovative ways to allow the best teachers to affect more students.
How can we extend the reach of the best teachers without simply increasing class size? We could reorganize roles in schools so the best teachers are leaders in larger classrooms, with less-experienced teachers providing smaller group support.
We could use technology to bring great teachers into schools that currently can't hire, say, the excellent physics teacher their students deserve. Or we could invest in more efficient blended-learning models, combining individualized computer-based instruction and teacher-based instruction.
By restructuring roles, investing in innovation, and supporting blended learning, we could enable schools to pay great teachers much more—within their existing budgets. Students would benefit by gaining access to top instruction. Teachers would benefit, earning more and having more impact. And the city would reap the rewards of better education, without breaking the bank.•
__________
Harris is CEO of The Mind Trust, a not-for-profit supporting entrepreneurial education initiatives. Send comments on this column to ibjedit@ibj.com.
Please enable JavaScript to view this content.