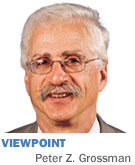 For the umpteenth time since the early 1970s, a president of the United States has issued a plan for solving all our energy ills. Like the "Project Independence Blueprint" of 1974, and Carter's first and second "National Energy Plan," the Obama administration's "Blueprint for a Secure Energy Future" is largely a waste of time. It is the latest official attempt to solve our energy dilemmas; every other such effort has only made matters worse. There's no reason to be optimistic this time.
The major flaw with the Obama plan is that it claims to do two things simultaneously that are mutually exclusive: reduce our dependence on oil and lower everyone's costs in the process. The only way government can actually do this is by creating technological wonders. But in fact, government has never created any commercially viable energy technologies, much less one with the cure-all properties the country appears to need. 
Look at the last such panacea: ethanol. We now have a mandate to use billions of gallons of the stuff—a mandate that makes absolutely no economic, environmental or technological sense. Of course, we are supposedly on the verge of breakthroughs; President Bush told us so. Now we are supposedly on the verge of breakthroughs with wind and solar and electric cars and other technologies. 
It's largely wishful thinking. Solar has been five years away from widespread commercial application for the past 30 years. Electric cars have been the wave of the future for about 100 years.
Then again, we are in some kind of energy crisis, aren't we?
Actually, we are in a political "energy crisis" every time price hikes make people uncomfortable. But it is only when the price is high that we are likely to use less, so if the goal is to cut oil consumption, we are already on the way. It is no coincidence that Europeans drive more fuel-efficient cars than we do; they pay high gas taxes, while we have "corporate average fuel economy" standards that allow us to be inefficient whenever gas prices are low.
This points up the contradiction at the heart of U.S. energy policy: The way to get people to use less (and so become less dependent on foreign oil) is to raise the price. If by government, it means high taxes. The way to reduce the cost is to give tax and other incentives to energy companies to drill everywhere, especially outside the Middle East. But either of these options is politically impossible, so politicians promise to do both simultaneously through inordinately intricate and generally worthless "plans."
It's ironic that we are now said to have major problems with respect to energy supply just at the time production and reserves of oil and especially natural gas in the United States are rising. Though natural gas was thought to be tapped out in the 1970s—as President Carter aide John O'Leary put it in 1977, "I think [natural gas] has had it"—we now find we can count on the supply to carry us through the rest of this century and beyond.
Presidents from Nixon on and Congresses beginning with the 93rd have tried all sorts of programs to make us energy-independent while saving us money, too—all of which were abandoned. Expect the new federal "Clean Energy Standard" to be revised if not also abandoned as undoable. 
It's not clear exactly what administration officials are trying to accomplish or why they feel the need to do it. Yes, gas prices are high and we import a lot, but the largest portion comes from those strange distant lands of Canada and Mexico. Of course, Middle East turmoil will affect the price here, whether or not we import any oil. Texas and Alaska oil is not sold at a deep discount because it's domestic.
But regardless of whether it makes sense or not, here we go with the latest energy policy blueprint. Call it the "Blueprint to Nowhere."•
__________
Grossman is the Efroymson professor of economics at Butler University.
Please enable JavaScript to view this content.