One of my restaurant rules is to avoid opening day. Like previews in theater, the first "performances" for an eatery are likely to contain glitches and inconsistencies that, with proper management, will be worked out before most people show up.
But I violated my own rule when Pei Wei—a faster-food kid sister to the P.F. Chang's chain—opened at Glendale Mall (6159 N. Keystone Ave, 205-9380). It's a chain, I figured. They've got it all worked out.
Well, not quite. On this lunchtime visit, while the "woked" offerings weren't memorable and the kitchen seemed overly hesitant on the spices (think somewhere between Chang's and Panda Express), everything was acceptable enough. Whenever a dish offers a choice of chicken, beef, shrimp or tofu, you know customer appeasement, not culinary excellence, is the priority. And so the Thai Coconut Curry with Beef ($8.75) and the Honey Seared Chicken ($8.25) neither disappointed nor excited. And, as the old joke goes, such large portions.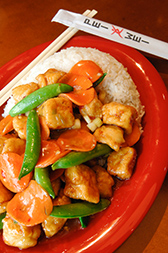 The Pei Wei Spicy uses a chile vinegar sauce to flavor chicken, veggies and rice. (IBJ Photo/ Perry Reichanadter)
The problem was the overzealous service. At Pei Wei, you order at the counter—Noodles & Co. style—then take a number to your table, where your food is delivered. We hadn't even sat down before our Crab Wonton appetizer ($2 for two) arrived. Before a taste could be had (more crunch then crab), our Vietnamese Chicken Salad Rolls ($6.75) and Thai Wonton Soup ($2 cup) were dropped off. Barely had I blown on a spoonful of the soup when the entrees filled out the tabletop.
Honestly, I felt like Lucy Ricardo trying to keep up with the chocolate shop conveyer belt.
I'm happy to report that a week later when I showed up solo and ordered an appetizer and entree, the pace was less crazed. In fact, while I took my time with the Chang's-lifted Minced Chicken with Cool Lettuce Wraps ($6.75), a passing staffer noted that three leaves just weren't enough and offered to retrieve more, the better to enjoy the mix of water chestnuts, rice sticks, chicken and shiitake mushrooms.
This time, the Pei Wei Spicy with Chicken ($8.25) arrived at the right time and had more flavor than the dishes on my first visit (although I still wouldn't call it flavorful). Piled with chunks of chicken, snap peas and carrots, it meshed well with its chile vinegar sauce and included plenty for a second lunch.
The meal also included a moment of customer service that I won't go into detail about out of concern that unscrupulous readers (onliners, of course, not IBJ subscribers) might take advantage. Suffice it to say that I witnessed Pei Wei's staff going out of its way to please a customer in a situation that was not at all the restaurant's fault. Such an outstanding act of penny foolish/pound wise thinking indicates on-the-ball management and an understanding that, ultimately, restaurants are in the people-pleasing business.
After what I saw—and tasted—at Pei Wei, I'll be back. I'll just make sure to ask for a little more kick from the kitchen.•
—Lou Harry
__________
Second in our month-long series of reviews of newer ethnic eateries.
Please enable JavaScript to view this content.