In the wake of its 16-years-and-still-running Broadway revival and the 2002 Best Picture-winning film version, it's difficult to believe that the musical "Chicago" wasn't a hit when it opened on Broadway in 1975.
Even with legendary (and legendarily difficult director) Bob Fosse, "Cabaret" songwriters John Kander and Fred Ebb, and stars Chita Rivera and Gwen Verdon, the show managed only to stretch to a two-year run, and got that far thanks only to a fill-in by Liza Minnelli.
Conventional wisdom is that the show either was too dark for mid-'70s audiences—that it was ahead of its time—or that it got lost in the juggernaut that was "A Chorus Line," which opened around the same time and was beloved by critics and audiences.
Both are probably true. Particularly the former.
"Chicago," after all, tells the tale of an adulteress who murders her lover, manipulates her husband, and shows no semblance of human decency from overture to curtain call. It's told in a confrontational style, with the actors staring—and singing—down the audience. And its form echoes its themes. While "Chicago" is about crime as entertainment, it sneakily implicates the audience by wowing us with great songs and razzle-dazzle, provoking unthinking applause and laughter for people doing reprehensible things.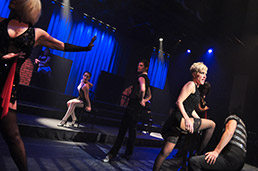 A corps of accomplished dancers lend slinky atmosphere to Actors Theatre of Indiana's production of "Chicago." (Photo Courtesy Actors Theatre of Indiana)
In the national tours I've seen, there's always been something missing. I thought at the time that the show needed big stars. That the likes of original cast members Chita Rivera and Gwen Verdon was the missing ingredient. But now that I've seen Actors Theatre of Indiana's production, I'm not so sure.
Running through May 22 at the Studio Theatre of the Center for the Performing Arts, ATI's professional troupe showed that what was missing from those adequate tours was maturity.
Well, not exactly maturity—these characters are far from mature. But Cynthia Collins (as Roxie Hart) and Holly Stults
(as Velma Kelly) bring a needed desperation to their attempts to clutch and hold onto the brass ring of celebrity. Their days as arm candy for mobsters are either over or rapidly disappearing. And they know it.
In this intimate of a setting, Collins particularly doesn't shy away from the uncomfortable. Her big "Roxie" number takes on added weight as we watch her star rise and her psyche crumble. It's a shame Kander and Ebb didn't write an equally strong number for Velma. Yet Stults makes her "I Can't Do It Alone" song appropriately desperate and pathetic.
(Trivia note: While Renee Zellweger and Catherine Zeta Jones were in their early 30s when they made the "Chicago" film, the original Broadway stars were 42 and 50.)
Beyond the leads, ATI has rounded up a solid-to-terrific cast, with stand-out work offered by Paul Hansen as the milquetoast Amos, Kristen Noonan as the language-challenged murderess Hunyak, Bradley Reynolds as slick lawyer Billy Flynn, and Dwandra Nickole as Matron Mama Morton. The on-stage band, under the direction of bowler-sporting Brent Marty, delivers the musical goods (sounding particularly strong on the instrumental "Hot Honey Rag.") Choreographer Michael Worcel stays true to the original and revival moves of Bob Fosse and Ann Reinking while fitting the dances into the space.
My only regret is that there's nothing on ATI's just-announced lineup with the meat of "Chicago." But, then again, there aren't many Broadway musicals that pack such a quality punch in such a minimalist package.
__________
Judging from its production of "Small Lives/Big Dreams" (March 2-5), the changing of the guard at Butler University Theatre to new Theatre Department Chairman William Fisher should leave no concern that Butler will slip in the Indy theater landscape.
What other theater here would dare offer a play consisting entirely of sampled dialogue from Anton Chekhov's plays? And where else here could you get the impeccable team of director Fisher, set designer Rob Koharchik, sound designer Lowell Jacobs, and costume designer Wendy Meaden to make it work?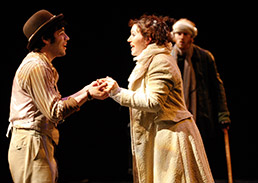 Butler University Theatre's "Small Lives/Big Dreams" meshed Chekhov's characters. (Photo Courtesy Butler University/Brent Smith)
Where else locally are box office considerations completely off the table?
Where else are we going to have our notions of what theater is stretched in such interesting ways?
That's not to say that "Small Lives/Big Dreams" was wholly successful. I'll admit to occasionally wondering why the choice was made to offer this creation instead of, oh, maybe an actual Chekhov play (of which we see too little here).
But at its surprising strongest, the play had an ethereal magic to it, leading me to thoughts about the disconnected nature of most human conversation, on or off the stage. It subtly addressed the things we carry, the way we move forward (and sometimes backward), and the way language can become music or nonsense.
It might not have been Chekhov, but if it were running another weekend, I'd tell you to rush in. •
__________
This column appears weekly. Send information on upcoming arts and entertainment events to lharry@ibj.com. Twitter: IBJArts and follow Lou Harry's A&E blog at www.ibj.com/arts.
Please enable JavaScript to view this content.