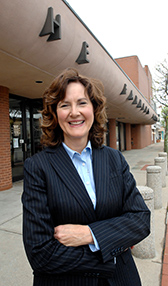 Farmers Bank President Karen Miller says a community bank should lift the finances of its community.(IBJ Photo/ Perry Reichanadter)
Few bank presidents gather their employees once a week, 15 minutes before unlocking the front doors, and pass out plastic clapping hands to keep the beat to The Isley Brothers' "Shout," pulsing full volume through the lobby. Fewer still climb atop a customer-service counter to open the early-morning pep rally with a full grin.

But Karen Miller is not your average bank president. She starts as a minority—one of only four women running an Indiana-headquartered bank, in this case Frankfort-based Farmers Bank. Then she distinguishes herself more significantly. Miller has orchestrated nothing short of a cultural transformation at Farmers—from a run-of-the-mill, friendly, small-town bank into an organization whose very soul is service.

She has also led Farmers on a bold expansion this year, into heavily banked southern Hamilton County. And she's done it all while collecting a level of respect from peers and employees that any professional would envy.

"So what's going on?" Miller asked the 60 or so fresh faces who smiled back up at her at the beginning of a recent pep rally.

And, yes, they really did return her smile, as strains of "Hey-Hey-A-Hey, Hey-A-Hey-A" faded away.

A woman named Robin stepped up to answer Miller's question.

"I hope I can do this without crying," she said, then thanked co-workers who helped organize a silent auction and bake sale that raised $2,505 for a Farmers employee struggling to cover insurance shortfalls for her sick baby's health care.

"Life gives to the givers," Miller chimed in.



The weekly "huddle," as Miller calls it, quickly cycled through reports on other fundraisers, a welcome of two new employees, a reminder by Miller to suggest ways to increase participation in a community shredding and recycling project, and an update on the nearly reached goal of converting 4,000 customers from paper statements to "e-statements." Each item met applause and cheers.

Culture change

Miller, 55, said later in her office that the huddle is only one component of a "change in vision" she decided about four years ago that Farmers needed. The bank was doing OK, she said, but she envisioned a workplace that valued respect and helping people at its core and she set about making that a reality.

Everyone was retrained on how to answer phones, how to greet walk-in customers, how to treat co-workers, how to truly listen to clients, how to view their purpose at Farmers as meeting people's needs—not selling products.

"People who enjoy other people and like to serve" enjoyed the change, Miller said. A few, who didn't, "found somewhere else to work. And that's OK."

Brad Cunningham was one who found the change "refreshing." Now head of commercial lending, Cunningham has worked at Farmers for 15 years.

"Morale at the bank has improved considerably," he said. "People treat one another with much more respect."

Customers noticed the change, too, Miller said.

Not long after the makeover, she and her husband returned from their nightly walk to find a couple on their porch waiting to say, "'We don't know what you did at the bank, but we love it,'" Miller said. She got so much positive feedback that the bank started posting testimonials on its website.

Miller is using that service approach to court prosperous Hamilton County. She had heard stories of poor service at other banks from customers at a commercial lending branch that Farmers operated in an Indianapolis office park for 12 years. The stories convinced her to pursue full-service branches in this market. A Fishers branch opened in December, and one in Noblesville in January. Miller said Farmers will assess progress at those locations before any more expansion.

The experiment has already contributed to what could be a banner revenue year for Farmers. Overall revenue is $3.59 million for the first nine months of the bank's 2011 fiscal year, putting it on track to be one of the best in several years, she said.

Miller's philosophy about her bank's role is an extension of her belief in her own purpose. Shortly after she was named president of Farmers in 2005, she visited a business customer who gave her a tour of his sawmill that he had expanded with loans from Farmers.

"It was neat to see all of that, be a part of that," Miller said.

A year or so later, the customer died suddenly. Miller said she was honored to sit down with his widow to help her sort through tough business issues.

"Being a part of people's lives, having a positive impact on their lives" is what Miller values about community banking.

Niche with a future?

She hasn't always been a community banker. A Frankfort native, she earned an accounting degree from Ball State University in 1977, then worked as a CPA for nine years. She became restless, and heard that Clinton County Bank and Trust needed a commercial loan reviewer. She didn't want that job in particular, she said, but the bank's chief financial officer confided that he was leaving in a year or so. She signed on and did, indeed, replace him.

Trouble came when the buyouts started: first Summit, then NBD. Miller was transferred to Lafayette, then Indianapolis. She became further removed from financials, and the management transitions were "a disaster."

Miller was plenty dissatisfied when Farmers officers called in 1995, looking for a CFO, yet she hesitated.

"Do I really want to do this?" she asked herself. "Will community banks be around in 10 years?"

A former colleague who had been gung-ho about the Clinton County bank's buyout convinced her that he had since seen the light, that a niche would always exist for smaller banks' personal service.

Tom Rohrabaugh was executive vice president of Farmers in 1995. He and then-president Fred Agnew recruited Miller because "we wanted good people who would be here a long time." They had both followed Miller's career.

"Everything about Karen was embodied in what we felt we needed at Farmers Bank," Rohrabaugh said.

Miller soon took on executive vice president's duties at Farmers. Then, in 2005, the president's office opened. Joe Doan, who served on Farmers' board at the time, said the decision to promote Miller to president and CEO was a no-brainer.

"We really didn't look outside the bank at all when we elevated her to the CEO position."

It was about this time that Miller started reading the wisdom in the Bible's Book of Proverbs, to help her face the challenges she expected as president. She read one of Proverbs' 31 chapters each night, in order. She still does, restarting the book the first day of each month.

"You'd think I'd have it memorized by now," she said, laughing, "but I don't."

Miller believes so strongly in reading for betterment that she posts her recommended reading list on Farmers' website. The Bible has influenced her life the most, she said, but she also reads secular books about leadership and self-improvement.

People 'drawn to her'

Something has certainly paid off. Consider the dizzying collection of terms both former and current colleagues used to describe Miller: kind-hearted, tremendous, outstanding, highly intelligent, positive, optimistic, talented, hard-working, a leader, approachable, dedicated to detail, gentle, willing to make the tough decisions, determined, enthusiastic, funny, caring, curious, respected in the community.

"People are just drawn to her," said Karen Larimore, who has known Miller's family all her life and worked with Miller in the 1980s at Clinton County.

"I've never heard anybody say anything bad about Karen Miller," Cunningham, the Farmers commercial lending chief, said. She is sometimes late for meetings because "she can hardly walk through the lobby without [customers] wanting to stop her and talk with her."

Joe DeHaven, president and CEO of the Indiana Bankers Association, pursued Miller to serve as an IBA director twice, even after she declined his first invitation so she could focus on reshaping Farmers. DeHaven has known Miller for 15 years, and was determined to have her input.

"Getting to know her better [since she joined the board three years ago] has done nothing but validate who she is," he said.

Miller credits her lifelong faith and her upbringing with shaping her. Her veterinarian father taught her by example to respond to business calls off the clock.

So it was automatic on a recent Saturday for her to drive to the bank to check the accounts of a woman whose son called Miller at home, worried his mother had become a phone-scam victim.

One of Miller's greatest joys, she said, is "to see our employees come back [from a client meeting] excited that they have helped a customer."

Nancy Harshbarger, a Farmers trust officer, said Miller's enthusiasm is contagious.

"We want to give service that exceeds expectations," she said. "That's what's expected of us."

And no less than what Miller expects of herself.•