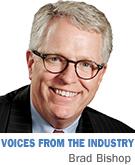 The history of the orthopedic industry in Indiana (well, everywhere else, too) is marked by technological change. When Revra DePuy launched the modern orthopedic industry in Warsaw in 1895, he led a transition in treatment of bone fractures from wooden splints to metal ones.
With the advent of X-ray technology, splints changed so fractures could be visible. When penicillin and other medical advances later improved conditions for open surgical procedures, the orthopedic industry turned its focus in fracture fixation to internal implants.
Then, in the 1960s, the materials and techniques required for joint replacement began to mature, and the orthopedic industry again adjusted its focus. Joint replacement became a common therapy in the 1980s and, today, joint replacements account for more than a third of the world market for orthopedic products.
Warsaw is now clearly the orthopedic capital of the world, accounting for $11 billion in revenue out of a world market of $38 billion.
In 2009, a report by BioCrossroads led to the formation of OrthoWorx, which is focused on leveraging strengths of the cluster and community to create the best environment for continued success. Much is at stake—a recent study by the Indiana Business Research Center showed the cluster accounted for 13,000 direct and indirect jobs in Kosciusko County, more than 40 percent of the total.
So, the Warsaw community is attentive to changes in technology and treatment of disease of the joints and musculoskeletal system. Possible threats from technological change include the proverbial "pill that will cure arthritis" to what is considered the "holy grail" of joint treatment—a biologic therapy that would repair or regenerate cartilage and other soft tissues.
It is the deterioration of the cartilage that acts as a shock absorber between the bones of a joint that typically leads to a joint replacement. So, the premise is, if you can intervene early before the soft tissue is destroyed, you might keep the joint functioning and pain-free (in other words, no need for a traditional metal-and-plastic joint replacement or at least that surgery can be delayed a meaningful amount of time).
While the magic pill is not on the visible horizon, biologic therapies are being developed.
The 2009 BioCrossroads report had these thoughts on biologics: "There have been some questions about how well the industry as a whole is prepared to shift to a very different technology base. … However, since there are many hurdles to be faced before tissue regeneration products are ready for trial in humans, and since the regulatory path is expected to take five years as a minimum for stem cell products, the conventional orthopedic device industry has time to adapt to a gradual shift."
Knowledge Enterprises' Orthopedic Industry Annual Report for the year ended June 15, 2010, pegs the biologics segment of the industry at $3.9 billion, or about 10 percent of the total world market. Included in that total are bone void fillers and bone growth agents; technologies for soft tissue repair and regeneration do not yet account for a significant share of the biologics total.
All the major Warsaw companies have research and development programs (and some commercial products) in biologics. And several startups in Indiana are working to participate in growth of biologics.
When I started in orthopedics more than 25 years ago, the industry had begun working to create these biologic treatments, but it wasn't clear how soon the concepts would become reality.
Today, the actual date when and if such treatments will obviate joint replacement implants is no more obvious than it was then. But, like the Jetsons' flying car, it will likely happen.
The orthopedic industry will pursue technological advances to participate in the new market, just as it did with splints, internal fixation and joint replacement.
But with the demand for joint replacement expected, according to one study, to more than triple by 2030, and with current technology being the only viable treatment, it makes no sense to take our eye off the ball when it comes to work-force development, education and community attractiveness. Those efforts will continue to pay off for the foreseeable future of the orthopedic industry, and community attributes such as a high-performing education system will be of value no matter where our economic future takes us.•
__________
Bishop is executive director of OrthoWorx, a trade group in Warsaw. Views expressed here are the writer's.
 
Please enable JavaScript to view this content.