It only took one look at the squirrel fabric—a lightweight European woven cotton dotted with hundreds of tiny squirrel silhouettes—for dozens of clothing possibilities to usher forth. I imagined a summer blouse with tiny pouf sleeves, maybe the lining in a linen blazer, maybe a floor-sweeping sundress to go with my wide-brimmed straw hat.
That's what happens in fabric stores: People get inspired. The bolts of silk and tweed, the rolls of shiny ribbons, and the racks of buttons dare the next creative person to put them all together into something beautiful.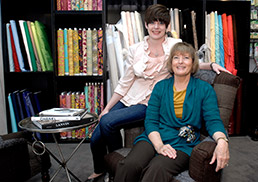 The French Seam, located in Clearwater Shoppes on the northside, has a wide selection of what Young calls "adult cottons," which are more stylish than quilting cottons. (IBJ Photo/ Perry Reichanadter)
I'm not talking about a craft store like Jo-Ann Fabrics or a quilting store crammed with every calico imaginable. I'm talking about a fashion fabric store, where one shops for the trappings of an evening gown or a killer suit. I'm talking about something like The French Seam, where I saw the squirrel fabric, which I'll be purchasing when the shop opens next weekend.
The new store is a family venture by Courtney Young and her mother, Linda Compton, who have already been working together for 11 years in the not-for-profit world.
Both recreational sewers, Young and Compton started writing the business plan for The French Seam nearly three years ago, to realize Compton's dream of owning a fine fabric store in the Midwest.
"I'm tired of people saying sewing is a lost art, because it's not," Young said. "Anyone can do it with the right tools, and that's what we intend to bring to Indianapolis."
As I looked around the space at 3909 E. 82nd St., made small by the mammoth amount of stock and broad cutting tables, I could tell Young and her mother have good taste. The brands they had chosen reminded me of a smaller version of Haberman Fabrics, the Michigan fabric giant where my mom worked when she was 16 and where I worked from age 14 to 18.
I recognized KAI Japanese sewing scissors, Gutermann thread, vintage Vogue patterns, Missoni knits, YKK zippers and horse hair canvas, everything one needs to make a stellar garment.
Young and Compton describe their investment—a six-figure combination of family savings and a bank loan—as something like "blind faith," since they admit they don't really know who their customer will be.
But I think I know. A store like this has the potential to transform a city, heck, even a state. Indiana is home to five colleges and universities offering apparel design and fashion merchandising programs. And with only craft and quilting stores available locally, student work is often made with poor materials.
Inexperienced sewers will have a place to bring their projects for guidance, or learn new things in the small classroom set up near the back of the space. When a high school senior wants a custom prom dress, The French Seam will offer her something other than polyester satin. A man can select fine Italian wool for a suit without having to choose from an array of swatches, and a hobby sewer like me can find the right interfacing for my skirt pattern without having to order it online.
My fashion designer mother makes an average of three trips to her local fine fabric store every week, to get a different thread color or because she needs extra fabric. Now local designers will have the same luxury.
Young stresses The French Seam is not a bridal supply store—at least not yet.
"All that lace and satin could fill its own store," she said. But that doesn't mean she won't add that later, since she says her gut tells her the store will be expanding in just a year. That's in addition to the Web store component she hopes to add soon.
In the meantime, she and her mother look forward to getting some sewing done so the store has some display pieces.
I'm hoping they don't use all the squirrel fabric.•
__________
If you'd like to share your own style ideas or know anyone who's making waves in the fashion community, contact Poshadlo at gposhadlo@ibj.com. This column appears monthly.
Please enable JavaScript to view this content.