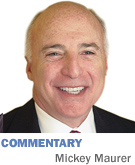 William Alfred Cook, Jan. 27, 1931—April 15, 2011
I missed Bill Cook's early years—the high school basketball and football star, Northwestern University graduate, military veteran, and hard-driving businessman. We had been friends for less than a decade, but in a sense those were some of his best years—years of philanthropy, of passionate restoration.
We met at the governor's mansion when I served in the Daniels administration. We discovered that early in our lives, while we were building our respective businesses, we each flew a Mooney Executive, a fast and quirky single-engine propeller plane. He said he flew that little four-passenger airplane throughout the country as the only salesman for his fledgling company.
We talked about the passage in his biography, "The Bill Cook Story," written with Bob Hammel, where he related that he would fly from Fargo, N.D., to Minneapolis—maybe then to Oregon—in that airplane and that there were customers who never knew he was his company's only salesman. He was at a meeting in Florida and someone asked how many salesmen he had. He did not want to tell them, so he just said, "Well, we're doing pretty well."
Every obituary I read last month led the reader to believe that Bill's business career began with the medical-device company. It didn't. Bill and a fraternity brother organized an enterprise to manufacture and sell shot glasses with pictures of nude women on the bottom. The picture was magnified by a lens and held in place by a filter. The filter failed and so did the business. I like that story because it illustrated that Bill was undaunted by failure and did not hesitate to begin again. He tried yet another business before he built that first catheter system. It's a good lesson: Mistakes will be made. Stay in the game.
In his book, Bill offered some additional advice:
1. Don't be in a hurry to begin your life's work. Take time to look around as an adult. Experiment.
2. Never plan too far ahead or too precisely, because you can lose sight of your goals and dreams. Dreams can die because plans make them insurmountable.
3. Try to keep your family above the business.
4. Always be competitive.
The subtitle of his biography is, "Ready, Fire, Aim." According to Cook, "Ready means preparation. Get yourself ready to do something, then do it. If you screw up, you go back and see what happened." What he called "aim" is hindsight. He added, "You find out where you screwed up and you can correct it much easier."
Less than a month ago, Bill, along with Cook Group Chairman Steve Ferguson, honored me with an invitation to speak to their executive team. I chose to expand on the series I wrote in this column on 10 principles of entrepreneurship you never learned in school. Later, I realized the absurdity of endeavoring to impart principles of business to the state's richest man.
When I arrived in Bloomington that day 15 minutes before the lunch meeting, the only man in the room to meet me was Bill Cook. He had arrived early for that purpose. I congratulated him on his gift to establish the Cook basketball practice facility on the Bloomington campus and we discussed our shared interest in the success of the university we loved.
Last year, I collaborated with Bob Hammel on a chapter about Bill Cook in my book, "19 Stars of Indiana." We ended that chapter with the following paragraph:
"Every year, Forbes magazine duly chronicles achievement based upon accumulated wealth. If Forbes would have included in its criteria an analysis of the impact on the health of our nation and the humanitarian deployment of wealth, the rank of Hoosier Bill Cook visionary, inventor, industrialist, philanthropist, preservationist and billionaire, would be even higher."•
__________
Maurer is a shareholder in IBJ Corp., which owns Indianapolis Business Journal. His column appears every other week. To comment on this column, send e-mail to mmaurer@ibj.com.
Please enable JavaScript to view this content.