The subsidiaries of Indianapolis-based OneAmerica Financial Partners Inc. had their financial strength ratings boosted into rarefied air by New Jersey-based A.M. Best Co., the most influential rating agency in the life insurance industry.

Best assigned an A+ rating to OneAmerica's American United Life Insurance Co., State Life Insurance Co. and Pioneer Mutual Life Insurance Co. The companies previously had a rating of A.

Fewer than 20 percent of large life insurers have a rating of A+ or above. OneAmerica officials expect the higher rating to help it convince independent insurance agents to promote OneAmerica policies because the financial strength rating indicates the company is more likely to be able to pay when a customer goes to cash in a life insurance policy years into the future.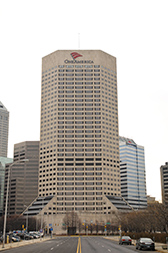 OneAmerica employs 1,300 workers at its headquarters in downtown Indianapolis. (IBJ File Photo)
OneAmerica is one of only two life insurers to be bumped up to an A+ rating since the recession that began in late 2007. Many life insurers suffered huge investment losses—at least on paper—due to the collapse in residential real estate and the stock market. But OneAmerica's investments remained strong during that period.

"A.M. Best notes that OneAmerica's investment portfolio has continued to perform significantly better than most of its life/annuity peers with respect to both realized and unrealized losses over the last few years," A.M. Best analysts Ken Johnson and Rosemarie Mirabella wrote. They added, "OneAmerica's exposure to structured securities remains significantly lower than life industry norms with no allocation to subprime or Alt-A collateral."

In 2010, OneAmerica's overall revenue rose 10.6 percent, to $1.4 billion. Its profits surged even more, climbing 18.7 percent, to $121.9 million.

"As a mutual organization, our long-term focus enabled us to build strength and accelerate sales growth through the financial crisis," said OneAmerica CEO Dayton Molendorp in a statement. He added, "A.M. Best has recognized OneAmerica's ability to progress in an industry facing considerable headwinds."