The number of arts-related businesses in Indiana reached its highest level since 2005 last year, but employment continued to decline.
In its annual creative industries survey, Americans for the Arts found 11,404 arts organizations and arts-related businesses in the state, an increase of 1,789, or 19 percent, since 2009.
Creative enterprises accounted for 3.25 percent of all businesses in Indiana, according to the survey.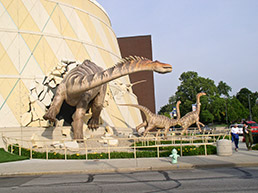 The number of arts-related businesses, like the Children's Museum, increased. (IBJ File Photo)
"In these challenging economic times, it is encouraging that the number of arts-related businesses increased from 2009 to 2010," said Lewis Ricci, executive director of the Indiana Arts Commission. "Businesses must exist before jobs can be created, and such a significant increase in one year's time should be a positive indicator for job growth."
The survey estimated that creative industries employed 47,083 Hoosiers, a drop of 1,804, or 4 percent, from the 2009 findings.
Arts-related employment peaked at 53,924 in 2007.
Businesses in the survey include film, architecture, media and advertising, as well as museums, symphonies and theaters. The survey relies on Dun & Bradstreet data. Americans for the Arts, based in Washington, D.C., began the study in 2005.
Please enable JavaScript to view this content.