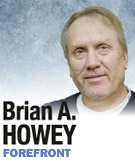 When it comes to success in the Indiana General Assembly, it would be hard to top what House Speaker Brian Bosma accomplished this year.
The Republican leader presided over the passage of sprawling, structural education reforms along with the most far-reaching abortion restrictions in the nation.
He comes from a family of educators—when his daughter graduates from Purdue University, there will be 11. As Gov. Mitch Daniels signed the education reforms on April 30, Bosma explained, "It's not just a theme in our family that every student's success depends on a great teacher. We believe it."
The reforms came after a tumultuous session where the Democrats walked out for five weeks. A younger Bosma during an earlier stint as speaker might have responded with acid rhetoric and ultimatums.
Instead, when Democratic Leader B. Patrick Bauer came back from Illinois to negotiate, Bosma did it in his office, with the entire press corps peering in.
"My experience with the Democrat leader is that sometimes things are misconstrued or misunderstood, and having an open meeting allowing the press to see what was going on and to report it assured that some of the practices that took place during the walkout did not occur," Bosma said. "Second, I said and stuck with the approach that we would not enter into some backroom deal to bring them back to the Statehouse."
Bosma's mantra was Churchillian: "Keep calm and carry on," as stated on a poster in his office. "I was confident we could stay calm and measured in our response rather than engage in bluster."
His maturity helped defuse what could have destroyed the session.
"I honestly believe if I had been in this same spot 10 years ago my response and our caucus response would have been very different," Bosma said. "I chalk that up to the experience of being speaker in 2005-2006 and perhaps even more, the experience of being in that position and then returning to the spot of minority leader for four years and the frustration of being unable to forward our agenda consistent with what we wanted. So I think I was the right person in the right place and the right time.
"Top to bottom, I really couldn't give this session a higher score from my perspective," he said. "Of course we'll all be the judge of that and of course there will be detractors for the positions we took. We changed Indiana significantly for the better, particularly in education, which has been near and dear to my heart for two decades."
And he's willing to do more. He dramatically changed the paradigm when he named two Democrats—Reps. Steven Stemler and Chet Dobis—to committee chairs.
When he talked to his Republican caucus members in line for committee chairs that went to Democrats, he said the response was "silence, followed by gasps."
"It was definitely the right thing to do," Bosma said. "It is my hope that, despite the difficulties this year, we can expand the model even further so that we look in the future to pick the best person—the best and most knowledgeable person—to head a committee, and not the best and most knowledgeable person from a particular party."
Bosma said he will press for a constitutional amendment to create a permanent redistricting commission. This came after he vowed to create fair maps that ended up throwing six members of his own caucus into three districts and another four into districts with Democratic incumbents.
Add to this his vow in 2005 for transparency, resulting in all House floor and committee sessions streamed on the Internet, and you find a speaker at the helm of compelling change.
To say that about an Indiana political figure—from the Indiana General Assembly, no less, often described by the late Harrison J. Ullmann as "America's worst legislature"—is an extraordinary thing.•
__________
Howey is a third-generation Hoosier journalist who publishes Howey Politics Indiana. Send comments on this column to ibjedit@ibj.com.

 
Please enable JavaScript to view this content.