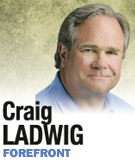 The demonstrations that rolled across the country earlier this year taught us there are two types of minds. There is the romantic (protesting teachers) and the economic (Wisconsin Gov. Scott Walker).
Some of us journalists begin as the former but begrudgingly adapt to the latter in order to make some sort of a living for our families.
What I know about the economic mind I learned from a fellow up the road from here. He is Norman Van Cott, a professor, fittingly, of economics. He teaches with a gang of like minds at Ball State University.
Using nothing more than that economic mind, Van Cott can tell you why Crazy Horse was lucky to win the Battle of the Little Big Horn.
Writing in the Journal of Economic Education, Van Cott notes that a primary source of military intelligence for the U.S. Army in 1876 in the West was the count of Native Americans on reservations. Logically, more warriors on the reservations should have meant fewer out on warpaths.
"But who counted the Indians?" the professor wanted to know.
The answer was government agents—agents paid by the number of Native Americans they counted, a systemic error that would cost General Custer and his men their scalps. Van Cott explains:
"Reservation agents' salaries reportedly varied directly with reservation populations. This provided an incentive for the agents to overstate the count. An agent foolish enough to report a decrease in population was cutting his own paycheck."
In 1876, the agents reported 37,391 Native Americans on reservations before the battle. Afterward, though, they could find only 11,660. It is reasonable to believe, therefore, that Custer thought he was running to ground a relatively small party of warriors when in fact he was about to be surrounded by what may have been three times as many.
You can believe what you wish, but it is this opinion that Gen. George Armstrong Custer was not done in by the white man's arrogance or even incompetent or jealous senior officers, two of the more popular explanations.
Yes, he was killed by frontier bureaucrats.
Which segues, sort of, into a commentary on this morning's headlines and a theory introduced to me by Cecil Bohanon, one of Van Cott's cohorts.
It predicts the difficulty of getting average people to take democracy seriously—until, of course, they become so frustrated they join extreme unions or pour out into the streets with pitchforks and torches. The explanation has the odd name "rational ignorance."
It occurs when government becomes so complex, detached or just plain corrupt that the typical citizen loses faith in his or her ability to influence it.
At that point, people make a rational decision that to become informed (and eventually vote) would be a waste of their time. It is why the old Soviet Union had to make it a capital offense to not vote.
"Voter knowledge and control of government will be much greater under a regime of strictly limited government power," writes Ilya Somin of the Cato Institute. "It also leads to the counterintuitive suggestion that the extension of government power to new areas of social life undercuts democratization rather than furthers it."
In other words, to make democracy work better, to ensure a larger number of informed voters, its scope must be as narrow as possible. It is why some of us question whether government should be running our schools at all.
Bohanon puts a finer point on it: "This is often taken, not without merit, as a libertarian motto for government to keep its hands off private choices, but it also can be seen as a prescription for government to do only a few tasks but do them quite well."
He suggests a bumper sticker: "Fire a Bureaucrat, Create a Voter."•
__________
Ladwig edits Indiana Policy Review, a quarterly journal studying local public policy. Send comments on this column to ibjedit@ibj.com.

Please enable JavaScript to view this content.