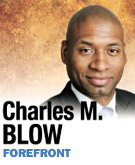 Treatment as prevention.
That's the way scientists describe a striking and incredibly encouraging new finding of a large clinical trial released recently that found that HIV-infected people who took antiretroviral drugs were 96 percent less likely to pass on the disease than those who didn't.
This is an extraordinary finding, coming in the year of the 30th anniversary of the AIDS epidemic in America.
This now shines a harsh light on the cruelty-creep and passion-drift by federal and state governments whose lack of financing and fealty in the fight against AIDS has had the effect of either starving or restricting support, services and prevention efforts for people with HIV and those at risk of contracting it.
In light of this week's news, perhaps no program becomes more important or in more urgent need of reconsideration than the nation's AIDS Drug Assistance Programs, or ADAPs, for low-income patients. ADAPs are co-funded by federal and state governments and now find themselves in a bit of a crisis.
On the federal level, Washington's contributions haven't kept pace with the scope of the problem. In 2000, 68 percent of ADAP budgets came from federal money. Last year, that had dropped to 45 percent.
And the state-level lawmakers are making unconscionable choices. According to data from the ADAP Advocacy Association: As of last week, the number of people on ADAP waiting lists had risen to 7,873; between April 2009 and April 2011, 14 states reduced the number and types of drugs they would pay for; and a number of other states have or are considering stiffening financial eligibility requirements and capping enrollment or removing some people already enrolled, among other things.
This is particularly problematic since the National ADAP Monitoring Project's annual report, released in March, showed that those most dependent on the program are some of society's most vulnerable. About a third of all people diagnosed with AIDS are enrolled in ADAPs, three-quarters of them had incomes of less than 200 percent of the national poverty level, 61 percent were uninsured and 55 percent were black or Hispanic.
But as the recession put more patients in need, federal and state aid didn't keep track. From 2007 to 2010, the number of people using ADAP jumped by a third, but federal and state funds specifically appropriated for it grew by just 3 percent and 18 percent, respectively.
Not only is it morally reprehensible to restrict or deny life-saving drugs to those who need them (talk about death panels), it is a colossal miscalculation of public health policy, not to mention being fiscally irresponsible.
The new findings should help change a paradigm that's badly in need of changing. Treatment benefits the healthy as well as the sick. It not only prolongs and improves the lives of those who are HIV-positive, but it's also a prophylactic for those who aren't. Everyone wins.
It's time to expand ADAP, not diminish it.•
__________
Blow is a New York Times columnist. Send comments to ibjedit@ibj.com.

Please enable JavaScript to view this content.