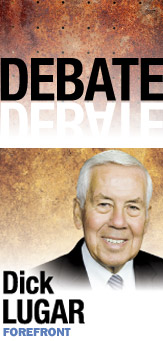 Question: "How do you define conservatism?"
Answer: True conservatism embraces core economic and cultural beliefs that center on individual liberty—the freedom to believe, say and do what your conscience dictates, without reprisal from any government or group. This liberty extends to property and every individual's right to own and protect property against its theft by government, gang or bully.
Culturally, this right is balanced by an equally important individual responsibility best articulated by the golden rule. No person's individual liberty can be at the expense of others.
Like William F. Buckley, Russell Kirk, Edmund Burke and other conservative-thought leaders, I believe a true conservative viewpoint is grounded in religious faith, with a respect for all human life and dedication to a purposeful life larger than self.
Liberals believe that government should take your money (property) in taxes to right the world's wrongs. Conservatives believe individual conscience should dictate charity.
The balance creates great political tension, which is occurring as we confront the reality that the country cannot afford massive deficits.
I have had the good fortune to call conservatism my political home and have worked to shape it in key areas. The agenda focuses on a pro-growth economic strategy with a tax code that stimulates savings, investment and job creation.
I was the first in the Senate to seriously advance the idea of a Fair Tax and to abolish income taxes and the Internal Revenue Service. I have led the fight to keep national labor unions from reaching into the small businesses that are the lifeblood of our economy.
I have opposed overreach by the Environment Protection Agency that stunts the growth of businesses, and particularly onerous regulations on small businesses and farmers. I was co-author of the Freedom to Farm bill and over the course of many years have sought to end New Deal intrusions of the federal government into the private economic pursuits of farmers.
As a conservative, I have strongly opposed the big-government and endless red ink of the Obama administration. The liberal agenda of Washington Democrats is adding gasoline to our economic firestorm of high deficits and unemployment.
I vociferously fought and voted against Obamacare on every vote over the many months of debate. It is bad policy and unaffordable. Early on, I asked Indiana Attorney General Greg Zoeller to study whether the bill was constitutional, which led to the law's being challenged in the courts.
I also opposed Obama's "stimulus" public spending bill that has driven our country deeper and deeper into debt with little to show for it.
Working closely with President Reagan—I supported his positions over the full eight years of his presidency more than any other senator—we demonstrated that the conservatism of smaller government and lower taxes is a sure-fire way to get out of the Carter, and now Obama, big-government economic malaise.
My work on foreign policy is grounded in pursuit of international relations that enable America to maintain the core values of modern conservatism. A central part of this national security focus has been decreasing our dangerous dependency on foreign oil.
Conservatives in America have shown the world that a successful, dynamic economy must be based on the Founding Fathers' ideals of liberty, freedom and personal responsibility. Conservatism requires that government policy should favor the people who put themselves and their property at risk in the effort to create wealth.
No country, state, city or family can make much progress without action to create wealth. Without it, human nature would quickly unwind the bonds of civility that hold a society together.
Therefore, a true conservative sees wealth creation as a moral imperative, and is against onerous government regulation and taxes that penalize work and investment.•
__________
Lugar, a Republican, is seeking re-election to the U.S. Senate. Send comments on this column to ibjedit@ibj.com.
Please enable JavaScript to view this content.