Production at General Motors' Indianapolis metal-stamping plant will halt by the first week of June, leaving about 290 people without jobs and ending the city's longest continuous run in vehicle-making.
Workers who fought a proposal to keep the factory going under new ownership appear to be getting what they wanted. More than 350 out of 643 hourly employees have already accepted transfers to other GM plants or retired, according to the United Auto Workers Region 3 office.
Whether the remaining workers will have a shot at transfers—thus preserving their GM benefits and pay—is a point of contention within the union.
"The other ones are such low seniority that the chances of them transferring are slim to none," said Mo Davison, director of the UAW Region 3 office covering Indiana and Kentucky.
The rank-and-file are more optimistic about their odds. GM announced earlier this month it will invest $2 billion at plants around the country, preserving or adding 4,000 jobs.
About 1,300 union workers who are currently laid off will fill those jobs first, a GM spokesperson said.
GM has facilities in Fort Wayne, Marion and Bedford that employ about 5,000 hourly workers. The company plans to invest $111 million in its Bedford die-casting facility and create or retain 245 jobs.
Union members also expect GM to offer another round of retirement incentives with a new national contract, which expires in September. That would create further openings for those who want to keep working.
Donny Jones, a member of Local 23 who starts work in Marion in late June, said some of his coworkers opted to wait for an opening at a plant in Indiana, rather than take the first offer to work in Michigan or Ohio. "Everybody had an opportunity to go somewhere," he said.
GM put the Indianapolis plant on its closure list back in 2007 with a target of September of this year. Then last year the automaker found a potential buyer in JD Norman Industries.
The privately held Illinois company would have kept stamping out body panels with GM as its main customer. To make the business model work, however, CEO Justin Norman said he needed a new contract that cut wages for unskilled labor to $15.50 per hour.
High-ranking union officials backed the plan as a way to keep work here, but bargaining committee chairman Greg Clark led a resistance to Norman's overtures. Union members overwhelmingly rejected Norman's contract offer last September.
A number of people working at the plant, Clark included, had transferred one or more times in an effort to retire with full GM benefits.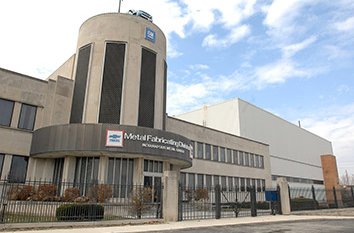 The GM plant, originally built in the 1930s, will close in June. (IBJ file photo)
Union activist Gregg Shotwell, a retiree from Grand Rapids, Mich., said "GM gypsies" come up with various living arrangements, which often involve long commutes. He knows one couple that's split between work in Lansing, Mich., and Marion. "It's really crazy and disruptive for a family," he said.
The plant shutdown means about 80 temporary workers will be out of work, as will about two dozen people who worked for a janitorial service that served the plant.
GM and the union successfully petitioned for Trade Adjustment Assistance, a federal program that will extend unemployment benefits for those workers and essentially pay people to go back to school.
In June, representatives of the Urban Land Institute will spend a week meeting with neighborhood groups and other stakeholders to gather input for a redevelopment plan, said Marc Lotter, spokesman for Mayor Greg Ballard.
The mayor's first choice is another industrial use that would bring jobs, and that's how Motors Liquidation, GM's post-bankruptcy spinoff, is marketing the 102-acre site, Lotter said.
The sprawling factory site just west of the White River has been the scene of vehicle making since the 19th century. Parry Manufacturing Co. made buggies and wagons in the 1880s, and successor companies made car and truck bodies.
The original section of GM's 2 million square-foot factory was designed by industrial architect Albert Khan in the 1930s for Chevrolet.•
 
Please enable JavaScript to view this content.