Even if most of them aren't showing off any talent beyond waving from a car on the parade route, there's no denying that celebrities visiting Indy for the 500 add a kick to the month of May.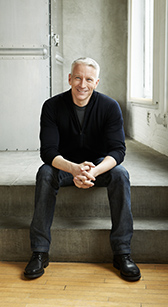 Anderson Cooper serves as grand marshal of this year's 500 Festival parade. (Photo courtesy 500 Festival)
Of course, one person's celebrity is another's "Who's that?"
So to help prep you for the big weekend, I submit the following guide to just some of the notables expected to be in town. (Obviously, Ruth Buzzie, Florence Henderson and Jim Nabors need no introductions.) Click here to download the guide.
Please enable JavaScript to view this content.