The stock market has punished battery maker Ener1 since executives revealed a $73 million write-down on its stake in Think, the electric car company.
Shares of Ener1 hit a new 52-week low of $1.42 before closing at $1.52 on May 13.
The company reported on May 10 a first-quarter loss of $84.7 million. Net sales were $23.1 million, up 110 percent from the year-ago quarter.
Ener1, which engineers and builds its lithium-ion batteries in the Indianapolis area, is the exclusive supplier for Think, a privately held Norwegian company that began assembling its City car in Elkhart last year. Ener1 also became one of Think's key financial backers.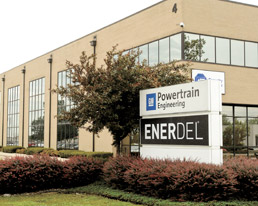 Ener1, the parent company of Indianapolis battery maker EnerDel, wrote off its investment in Think, an electric car. (IBJ File Photo)
"Think faces the need to recapitalize its go-forward business plan," Ener1 CEO Charles Gassenheimer said during a conference call. "While Think faces this challenge, Ener1 will be guided by two principles: No additional funds will be provided to Think by Ener1, and Ener1 will try to avoid consolidating or increasing its equity exposure to Think."
Most of Ener1's first-quarter loss was a $59.4 impairment charge on Think equity. Ener1 wrote down another $13.9 million on financial instruments, "primarily as a result of the impairment charge."
The total write-off was $73.3 million.
Gassenheimer said Ener1 decided to write down its equity position because of Think's inability to raise additional capital and its longer-than-expected delay in re-starting operations.
Ener1 halted battery production for Think earlier this year because the carmaker needed to work through a backlog. The stoppage contributed to Ener1's layoffs in March, which affected 3 percent of 770 employees worldwide. (The number of people laid off at offices in Indianapolis and a Mount Comfort manufacturing plant were not disclosed.)
Ener1 realized last year that its business wouldn't survive on selling to the electric car market, and it has shifted its emphasis to electric utilities and heavy-duty vehicles.
Gassenheimer reassured investors that Ener1 has the resources to finance the rest of its business plan. He expects Ener1 to post positive EBITDA (earnings before interest, taxes, depreciation and amortization) this year.
Please enable JavaScript to view this content.