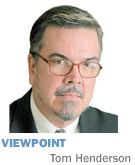 Indianapolis Public Schools is in trouble. This is not new. It seems to have been in constant turmoil the past four decades. People have earnestly voted-in school board members to fix it, time and again. The result is that IPS superintendents are hoisted up and concentric circles are painted on their shirts, so that every politician, parent and legislator can take potshots at them.

The IPS School Board has tried its best to hire great administrators and deal with funding issues for as long as I can remember. The troubles seemed to start with the enormous white flight to the suburbs after forced busing took place.

The current administrator, Eugene White, has the guts to keep standing up after so many have tried to knock him over. I watched him, long ago when my children were young, at Fox Hill Elementary School, when he was the Washington Township Schools superintendent. Here was a pragmatic thinker, and someone who did his level best to connect directly with the kids in that gym. He did it. It was awesome to watch. He admonished my children: "Don't get knocked over on your way to excellence. Get up again if you are."

Washington Township wasn't so tough to manage then; it's much smaller than IPS. IPS has many more children to educate and a decayed infrastructure. An increasing number of IPS students speak English as a second language. Some are handicapped, some are challenged, and some are living in the most extreme poverty in Indiana.

IPS lives in comparative poverty, too. For fun and mystery, a former Indiana Legislature made a cute and unconstitutional property tax funding law. Afterward, the law had to be first replaced, then fixed, fixed again, fixed some more, then finally fixed again this year. Administrators went berserk, trying to surf the biennial changes.

The tax base that once fed IPS eroded. In Center Township, tax exemptions, deferrals and outright abatement are handed out like sweet candy to businesses and organizations. Consider the very visible sports and religious not-for-profits, Capital Improvement Board installations, the tax debacles with Rolls-Royce, Eli Lilly and Co., and so on. Think of the federal, state and local government property there. Not a lot to tax is left.

Constant funding changes, an eroded tax base, a delight in funding charter schools to the detriment of needed public school funds, a new mandate that voters approve of capital improvements in school systems, and concentric circles painted on superintendents' clothing notwithstanding, we expect IPS to take its students to the very pillars of academic success after thoroughly hog-tying them. It's difficult to find more breathless insanity than this.

But wait—there is more insanity—the suggestion that the mayor should be the superintendent and perhaps the IPS School Board, too, has been put forth by "local power brokers." As if the mayor of Indianapolis (whoever he/she is next year) didn't have enough to contend with, that person also should run IPS. Indiana law says this could take place after a referendum. Ostensibly brilliant minds are behind this.

Several changes are likely to result. First, those pesky school board elections would go away! One also gets all the political philosophy of the mayor's political party as the new regime and latest agenda (remember: fix it). Children, now answering to the mayor, will instantly buck up and get right and excel at all those pesky Indiana Statewide Testing for Educational Progress-Plus tests they've been failing. The economy will pick up, IPS won't have all those single-parent families because people will be able to afford to get married again (if they're not gay), and all will be rosy. I'm glad they're fixing that. What visionaries!

It's a power grab, where nothing changes—funding is still maddeningly mercurial, the superintendent has a target on his back, and the mayor's control mushrooms. There were reasons we didn't let mayors control libraries and schools: They're supposed to be too busy, and putting so much power into a single person's hands is dangerous.•

__________

Henderson is managing director of ExtremeLabs Inc., a Bloomington computer analysis firm.