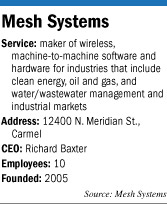 Ask Richard Baxter Jr. how he plans to make machines talk to one another and a handful of science-fiction films might come to mind.
Anyone remember the self-aware machines of Skynet in "Terminator"? Forget for the moment that in movies things don't always go well for humanity when machines get smarter.
Take your average lampposts in a shopping center parking lot. Baxter's Carmel-based company, Mesh Systems, could make each lamppost accept orders as to which ones should shut off and which should stay on longer, depending on how late an individual store stays open at night.
Or how about equipping all 650,000 low-capacity oil wells in North America that crank out two to 15 barrels a day with wireless devices that call home to report productivity levels? Well owners would no longer have to drive to each site to take readings. They'd also know which wells need tweaking to improve their productivity.
"There are countless applications," said Baxter, founder, president and CEO of Mesh. The 6-year-old company develops wireless "machine-to-machine" communications software and hardware.
Earlier this month, Mesh closed on a $2.5 million private placement from investors in Indiana and Wisconsin.
That pales in comparison with the potential payoff for firms in this emerging field. By some estimates, wireless M2M applications could be a $100 billion industry in five years.
Among factors enabling this industry are the growth of wireless phone networks, and semiconductors that can be installed into devices as small as a light bulb, for instance.
For now, the 10-employee firm has modest revenue, which Baxter declined to reveal.
Growth phase
But at the end of 2009, when Mesh launched a previous round of fundraising, sales were listed in registration documents at between $1 million and $5 million.
Nor does the firm disclose the name of its dozen customers who use its Mesh Vista software and wireless devices. Mesh doesn't sell to the end user but rather to original-equipment manufacturers that need to connect, monitor and control devices that tend to be in far-flung locations.
"Our focus is on the global Fortune 50," Baxter said.
Yes, he did say Fortune 50. Such a large firm was among the first prospective customers Baxter was able to get a meeting with, recalled Robert Wynne, an attorney at Baker & Daniels who serves as chairman of Mesh's board.
"This guy has a tremendous amount of credibility," Wynne said.
Baxter is from Indianapolis, attended Brebeuf Jesuit High School, and earned a degree in electrical engineering from Purdue University. He made a name for himself by founding Pensar Corp., a Wisconsin-based designer and manufacturer of industrial electronic equipment. The company grew to about 500 employees before he sold it in 2000.
"He made a lot of money for a lot of people. He's a tireless technology entrepreneur," said Wynne, who has advised numerous firms over the years and has seen plenty of entrepreneurs who can't seem to get much beyond developing their technology.
Baxter is one of relatively few tech entrepreneurs with not only a grasp of technology but also a solid business plan and sustained focus on it, Wynne added.
Sky's the limit
The closest many consumers get to wireless control technology of the type Mesh runs with is the automated home electric meters that report via a radio signal how much electricity a house uses each month.
Although Mesh is exploring M2M applications across a broad spectrum of industries, it has narrowed its focus to clean energy, the oil/gas industry and water/wastewater processing.
Many of the sectors are on a tear, particularly clean energy. Scads of wind turbines and solar farms are sprouting around the country and, because their generation is sporadic, many are being wired to banks of storage batteries.
Mesh contemplates sophisticated wireless monitoring and control scenarios that could include, for instance, commanding storage batteries to dump power stored in the batteries onto the grid when the wind isn't blowing and the sun isn't shining.
With the $2.5 million private placement completed, Baxter hopes to double the size of the engineering staff and triple revenue within two years.
Meanwhile, his company is focusing on how to cut its operating and capital costs. Rather than build out its own computer infrastructure to host its platform-as-a-service software for customers, it has partnered with Carmel-based data services company nFrame to provide a virtual hosting environment.
As Mesh grows, "they let us know and we just expand the footprint that they have virtually," said nFrame's chief operating officer, Bob Alcorn.
Time will tell whether Mesh can carve out a big chunk of the M2M market. Wynne thinks tech entrepreneur Baxter is on track.
"If a person was a stock, I'd buy him all the time."•
Please enable JavaScript to view this content.