Nordstrom's commitment to open a store in Circle Centre in the early 1990s gave the ambitious project instant credibility among retailers and helped convert skeptics of the downtown mall.
The question now: Has Indianapolis come far enough 16 years later to absorb the departure of the mall's signature tenant?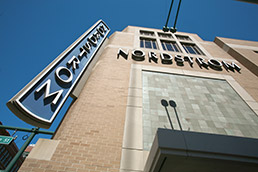 Downtown's Nordstrom store, an original tenant of Circle Centre when it opened in 1995, plans to close for good on July 31. (IBJ file photo)
The Seattle-based company plans to close its 210,000-square-foot store July 31, raising the specter of a high-profile downtown vacancy when Indianapolis is scheduled to host the 2012 Super Bowl.
City officials and retail market observers expect mall manager Simon Property Group Inc. will replace Nordstrom quickly enough to avoid the risk of an exodus of small-shop tenants, many of which have clauses allowing them to break their lease deals if an anchor space remains vacant for an extended period.
One encouraging sign for the mall: Fellow anchor Carson Pirie Scott in January signed a lease extension through 2016.
And Simon in 2010 renewed leases for several stores including Bath & Body Works, Gap, Lucky Brand and Origins, and added Body Central, Glowgolf and Bella Vita to the mall mix.
Nordstrom's departure will hurt Circle Centre in the short term, but ultimately most of the mall's shoppers are visitors who will go to the mall even without such an upscale anchor, said Richard Feinberg, a consumer sciences and retailing professor at Purdue University.
Anchor stores are more vital to malls that cater mostly to residents who live nearby.
"If Simon can get another mid-range department store, it would actually be better for Circle Centre than having Nordstrom there," Feinberg said. "People would spend more money. I just don't think this is a bad decision for anyone involved."
A middle-market convention city like Indianapolis simply does not attract enough Nordstrom shoppers, agreed Mike Wells, president of REI Investments, a locally based real estate development and brokerage firm.
Nordstrom, which rarely closes stores, has built its business on serving repeat customers with personalized service—an endeavor that makes less sense for a location that mostly serves customers who are visiting for a few days.
Visitors to Indianapolis are more likely to shop stores that have sales more than five times per year.
The demise of downtown's Nordstrom was all but sealed in 2008 when the chain opened a second store at The Fashion Mall at Keystone. The new store cannibalized the old one, contributing to a 50-percent drop in sales for the downtown location.
Nordstrom will close the store a few months before it opens the first Indiana location for its off-price chain Nordstrom Rack in October at the Rivers Edge shopping center at East 82nd Street and Dean Road. Nordstrom expects to offer 97 jobs at the new store and Fashion Mall location to the 176 employees who work at the downtown store.
IBJ.com broke the news of the impending closure on May 26.
"As you look at how our downtown has evolved with more convention business, sales per square foot at Nordstrom have declined," said Wells, who helped put together the deal to build the mall and now serves as an adviser to city leaders on Circle Centre.
Simon spokesman Les Morris said in an e-mail that members of a partnership that owns the mall were "surprised and disappointed" by Nordstrom's decision to close the store.
"The partnership made every effort to maintain the Nordstrom store at Circle Centre, but to no avail," Morris wrote. "The partnership will work hard to fill this space and are confident we will find a replacement that will better serve the Circle Centre shopper."
Erik Nordstrom, the company's president of stores, said business hasn't improved despite the city's efforts to "energize downtown Indianapolis." He flew into town to break the news of the closure to employees.
Industry sources said Simon's preference is to land a replacement anchor such as Macy's that appeals to a broader mix of customers than Nordstrom.
Another possibility would be to break up Nordstrom's space to accommodate a few midsize tenants such as Best Buy or Bed Bath & Beyond, along with a restaurant.
The good news is, Simon has the "network, contacts and expertise" to fill the space and take Circle Centre to the "next level," said Tamara Zahn, president of Indianapolis Downtown Inc.
She's convinced the Nordstrom space won't sit vacant for long.
"I'm pretty confident at least a portion of the space will be activated for the Super Bowl," Zahn said. "I would be surprised if that space would go unoccupied."
Simon's clout with retailers should reduce the risk of departures by more tenants, said Bill French, a senior vice president in the local office of Cassidy Turley.
Some lease deals have language that allows tenants to break a lease if an anchor space remains vacant for a certain period of time, often a year or more, French said.
He doesn't expect the Nordstrom space to remain vacant that long and sees a few midsize anchors as one option for the space.
"People may look at this as an opportunity," French said. "There's not a whole lot of space available downtown."
Circle Centre generated a profit of $9.1 million in 2010 on revenue of $23.7 million, according to an annual report on Circle Centre that Simon filed with the city May 19. The report does not break out the performance of anchor stores.
Occupancy at Circle Centre has held steady at about 93 percent for three years, excluding the troubled fourth floor, which was only 67-percent occupied in 2010.
Sales per square foot rose about 3 percent in 2010, to $340, still well below the $406 per square foot the mall achieved in 2007.
The city owns the land under the structure and paid more than half the cost of building the mall. The building itself is owned by a partnership of 20 mostly local companies, including Simon.•
Please enable JavaScript to view this content.