A visitor to Republic Services Inc.'s facility near West 96th Street and Michigan Road could be forgiven for mistaking the towering recycling machine inside for a Rube Goldberg contraption.

Glass, plastic and newspapers are dumped into a revolving drum that feeds a conveyor that in turn lifts the assortment about 90 feet and spills it onto a quick-moving belt where several workers purge contaminants.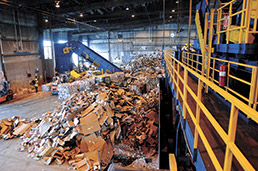 Republic Services' state-of-the-art machine, half the length of a football field, takes in recyclables from Indianapolis and as far away as Evansville and Champaign, Ill. (IBJ Photo/ Perry Reichanadter)
Cans and plastic bottles fall to another conveyer and heavier glass plummets to the floor, where it shatters and is crushed and rolled into tiny pieces to be shipped to Chicago to make more glass.

Plastic grocery bags magically vanish. Workers fling them into the air, and, whoosh, a vacuum system sucks them into a metal cage.

Spinning discs float newspapers forward until they fall to the floor and are scooped into a hopper and bailed.

The system, the largest in the Indianapolis area, is getting busier, and company officials see no letup in sight.

"Because Republic has invested millions of dollars in this recycling facility, that creates an incentive for more recycling," said Carey Hamilton, executive director of the Indiana Recycling Coalition. "It helps to create the right climate for communities to provide improved recycling resources for their residents."

Phoenix-based Republic added the $4 million machine in 2009 after buying the site from SMI Recycling & Disposal in 2000.

Republic employs 325 people in Indianapolis, counting its downtown plant on Langsdale Avenue near 21st Street and Martin Luther King Boulevard. The north-side facility has 90 employees, including 31 who work on the recycling line.

The state-of-the-art machine, which is half the length of a football field, can process 200 tons in a 10-hour day.

Its capacity continues to increase as more Republic customers recycle. The company serves half of Indianapolis for trash pickup and the entire city along with much of the metropolitan area for recycling pickup.
Drier
Recyclables, however, can arrive from as far away as Evansville, Terre Haute and even Champaign, Ill.

Republic made the investment in part to benefit the customer, said John Drier, general manager of Republic Waste Services of Indiana. Before the arrival of the machine, customers needed to place newspapers in a container separate from other recyclables.

"To get people to really want to recycle, we found that it needs to be easy," Drier said. "Otherwise, it's so labor-intensive."

But there also needs to be a financial incentive to make the investment worthwhile. Republic found that incentive in the quality of newspaper it can recycle and sell.

Newspaper had been sorted manually along with other recyclables, but the machine made it cleaner, thus more valuable to paper mills. Today, newspaper is bundled into 1,700-pound bales and shipped to paper mills in Alabama, Georgia, Ohio and Indiana.

Mills typically allow about a 2-percent contamination rate before rejecting it or paying less. Republic's state-of-the-art recycling machine helps the company consistently achieve the goal.

"It's only worth something if it's clean," Drier said. "Otherwise, the mills can't process it and they wouldn't want to pay for it."

Paper products are the largest component of municipal solid waste, making up more than 40 percent of the composition of landfills, according to the U.S. Environmental Protection Agency.

The U.S. paper industry has set a goal of recovering 55 percent of all paper used in the country by 2012.•