The automotive world is abuzz about Cummins Inc.'s prototype four-cylinder diesel engine that would hit 28 miles per gallon in Nissan's Titan pickup truck.
Cummins built the engine for Nissan, which is developing a line of light-duty commercial pickup trucks. The test program runs through September 2014.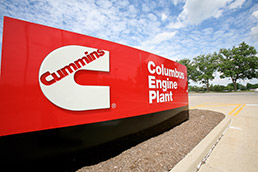 Cummins Inc. is developing a diesel pickup truck engine that would get 28 miles per gallon. (IBJ File Photo)
The Cummins-powered Titan would be more efficient than some cars on the road today, and would far surpass the efficiency of today's pickups. The 2011 Titan has combined city-highway mileage of 15 gallons and uses a gas-powered 5.6-liter V-8.
Pickuptrucks.com reported on the test engine last month from Cummins' presentation in Washington, D.C., for the Department of Energy, which is backing the program with $15 million. The report was cited by a number of automotive publications and USA Today's auto blog.
The small diesel is a variation on a 2.8-liter engine Cummins sells overseas, Pickuptrucks.com reported. It has roughly the same power as a small V-8. The pistons are made of high-strength steel, instead of aluminum. That allows for a shorter piston stroke, and therefore a more compact design under the hood.
The Cummins engine would help Nissan meet new federal fuel economy standards that require light pickups and SUVs to average 30 miles per gallon by 2016. Cummins is also shooting for clean emissions. The company says its small diesel will meet the equivalent of California's "super-ultra-low" emissions standard.
Please enable JavaScript to view this content.