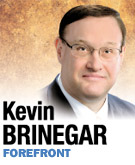 Indiana lawmakers passed four major K-12 education reform bills in 2011, so it's time to move on to another topic, right? Our young people will now obtain the knowledge and skill sets they need, with employers guaranteed productive work forces that will be competitive on a global basis, right?
Reality check! It is critically important that these new laws be implemented properly. Then, how about adding these to the education policy mix over the next 14 years?
• Thirteen grades instead of 12.
• Consequences for parents who allow their children to be chronically absent.
• Closing the middle school black hole that traps far too many students.
• 220 days of school, not today's 180.
These education initiatives and provocative "we want Indiana to be the best" ideas in numerous policy areas are part of the Indiana Chamber's Indiana Vision 2025 long-range economic development planning process.
Legislators and other policymakers live in a short-term bubble. The political realities result in some attention always being placed on that too-soon next election or trying to solve the problem of the day. The chamber is here for the long haul, so we're taking this ball again ("Economic Vision 2010" was the original version) and running with the help of a statewide task force.
So what other priorities must Indiana focus on in the next 14 years?
How about the dreaded "c" word—consolidation? Today's lawmakers might be unwilling to enact township reform and other common-sense measures, but suggestions have been made that we also have far too many school districts and counties. Business, after all, typically doesn't recognize artificial boundaries such as county lines and will do so even less in the future.
And before we leave education totally, there's the need to greatly enhance the appreciation for classroom learning among all Hoosiers. Too many parents and families are unwilling to recognize that education and training are needed for the next generation to thrive, despite the evidence that the traditional auto industry/factory assembly jobs will remain a thing of the past. Job market realities will deliver part of the message, but more undoubtedly will need to take place.
On the economic side, it's generally accepted that Indiana is going to "continue to make things." That's what we do. But to build on that manufacturing strength, Indiana must innovate at an extremely high level. After all, 49 other states and numerous countries will be doing the same.
To innovate, we need the next generation of leaders to emerge. How we encourage that innovation and cultivate those leaders will undoubtedly be an important part of the final plan.
The concept of "picking winners" is always an interesting one. When government does the selecting through various tax incentives and other programs, few people are happy at the end of the day. But what about the private sector doing the choosing? We've got a history—BioCrossroads and life sciences being maybe the most prominent example—that likely will need to be repeated.
Indiana must become a more tolerant destination, embracing persons of all types. While many detrimental aspects were removed from immigration legislation signed into law earlier this year, the debate itself strengthened outside perceptions of Hoosiers' intolerance. Several site selection experts recently confirmed those external views in a presentation to the chamber board and 2025 task force.
What else is missing? How will we implement the current education reforms, enact the bold new ones that will be required, consolidate government structures, take innovation to the next level, and demonstrate a welcoming attitude to entrepreneurs and families of all types? In part, by overcoming that Hoosier reluctance to brag and doing a better job of telling our story.
These are a few of the emerging priorities. They will be joined by many others. The road to accomplishing them will help determine our state's prospects for 2025 and beyond.•
__________
Brinegar is president and CEO of the Indiana Chamber of Commerce. Send comments on this column to ibjedit@ibj.com.
Please enable JavaScript to view this content.