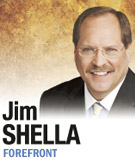 Mitch Daniels took a pass on a run for president and, by doing so, put an end to further scrutiny of his marriage and family. It's a case study in how a national campaign is different from a statewide race.
In early May, as Daniels gave serious consideration to a run, the Huffington Post ran a piece about his personal life sparking speculation across the country.
"The last hurdle remaining is ongoing discussions between him and his wife, Cheri Daniels, over whether she is ready to face questions about their past," the piece said.
"In 1993, Cheri Daniels left her husband with their four daughters and married another man in California," it continued. "She returned a few years later, reconciled with Daniels, and the two were remarried in 1997."
The piece went on to say that there was previously just one reference to the marital problems in the national media.
But, was that a revelation? I can help answer that.
The Indianapolis Star and other newspapers reported during the governor's first campaign in 2004 that Mitch and Cheri Daniels had divorced and remarried.
Two years later, the Indiana Historical Society published a book titled "The Governors of Indiana." It contains one chapter on each governor beginning with Territorial Gov. William Henry Harrison and ending with Mitch Daniels. I wrote the Daniels chapter.
In it, I talked mostly about the governor's political career and accomplishments but shared some limited personal information including this passage: "Daniels attended public schools before heading to Princeton University, where he received a Bachelor's degree in 1971. He then returned to Indianapolis to work in the office of Mayor Richard G. Lugar. It was there that he met Cheri Herman, who worked in the parks department. They were married in 1978, divorced in 1993, and remarried in 1997."
The point is that the Huffington Post "scoop" involved information that was well-known to political insiders in Indiana. The fact that it was not more widely known hinges on the fact that those insiders felt it was not pertinent to his performance in office.
On seeing the national reports that followed the Huffington Post story, in The New York Times, the Washington Post and elsewhere, an Indiana Democratic Party leader told me, "We didn't even use that against him!" I'm told that in the 2004 race, Joe Kernan, the Democratic nominee, personally vetoed any use of the Daniels divorce in his campaign.
In a GOP presidential primary, where family values may matter more than administrative skills, however, the Daniels marriage history suddenly became a big factor. The Huffington Post story was prompted by a tip from another GOP campaign.
It's reminiscent of what happened when Dan Quayle was on the 1988 GOP ticket as the vice presidential candidate.
"When Dan Quayle was chosen by George H.W. Bush to become the Republican vice presidential nominee in 1988, a firestorm broke out on the subject of whether the considerable influence of his family in Indiana had been used to get him a slot in the National Guard," Calvin Trillin later wrote in a New York Times opinion piece.
"At the time it was thought that if the jackals of the press, who were in full pursuit, managed to find proof that influence had been used—that he had been jumped over a waiting list of less-than-influential Hoosiers, one of whom might have gone to Vietnam in place of this cosseted rich boy and been killed—Mr. Quayle would have had difficulty remaining on the ticket," wrote Trillin.
Dan Quayle survived the Guard controversy, but it was an issue that never got legs in the two previous statewide races Quayle won. As with the Daniels divorce, it was reported by the Indiana media.
Now, because Daniels is no longer a candidate, the questions will go away. (Does the Daniels marriage history reflect positively on Mitch? Is it something Cheri should explain? Does it matter at all?)
But the lesson won't.•
__________
Shella is WISH-TV Channel 8's political reporter as well as host and producer of the Emmy-nominated "Indiana Week in Review." Send comments on this column to ibjedit@ibj.com.
Please enable JavaScript to view this content.