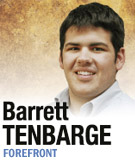 In a war-time address to Congress on July 4, 1861, President Abraham Lincoln defined the government for which the Union was fighting to preserve as one "whose leading object is to elevate the condition of men—to lift artificial weights from all shoulders, to clear the paths of laudable pursuit for all, to afford all an unfettered start and a fair chance, in the race of life."
I am reminded of this government Lincoln stood for and articulated during the education debate in this state over whether the state should intervene in our consistently failing schools.
This debate did not begin weeks ago at the start of public hearings in the communities where these 18 struggling schools operate. Rather, it began six years ago when these schools first went on probation for a lack of academic growth in their students.
The debate continued four straight years in which schools continued to perform unacceptably. And it continues today as these schools face a sixth straight year of academic probation.
In Indiana higher education, it is common to have high student involvement in governance decisions. A student sits on the Commission for Higher Education, and there are student trustee positions at every public university. Students are represented on nearly every campus committee and regularly communicate with the university's leadership.
In K-12 education, no such opportunities for student self-advocacy exist. I am not advocating that there should be. Rather, I am asking whether a student who sat on the Indiana State Board of Education or on the Indianapolis Public Schools board would rescue fellow students from failing schools, or continue to let the same people preside over failure?
As is common in debates over public policy, those who should be on the offense are instead forced to play defense. It is those who are trying to reform a clearly unacceptable status quo who are painted as the radicals, while those who at the very least have tacitly endorsed failing schools claim that intervention is not justified and that those at the helm of failing schools should not be held accountable.
At Arsenal Tech High School, for instance, less than 41 percent of students pass both the mathematics and language arts end-of-course assessments. This is just barely lower than the IPS average of 42 percent of students passing such assessments.
Passing an end-of-course assessment is not exactly a Herculean academic ability. When schools have well over half of their students not even passing end-of-course assessments for core subjects, how can they prepare students for life in the real world? How can they be entrusted to prepare students for further levels of education that are practically a prerequisite for employment and active engagement with the community?
Schools are not "failing" against some abstract report card. They are failing in a very tangible way their state, their communities and their students.
Chronically failing schools are a problem that affect a wide spectrum of issues.
I pick on Arsenal Tech because it serves part of the historic Meridian-Kessler neighborhood. If Indianapolis is interested in attracting the kind of people it claims to want—young professionals who want to live and create jobs in a vibrant, safe, fun city—Meridian-Kessler is an ideal neighborhood for them. I would love to come back to Indianapolis and live in a neighborhood like Meridian-Kessler. But I would be hard-pressed to do so with the current state of the district's schools.
Creating an environment in which individuals and businesses can thrive, "elevating the conditions of men," is the chief responsibility of government. If schools are chronically failing their students and preventing those students from reaching their potential, the state has the responsibility to those students and to the larger community to step in.
These failing schools are an artificial weight on the shoulders of students that are preventing them from having a fair chance in the race of life.•
__________
Tenbarge is a junior business student at Indiana University, where he is active in student government and the IU College Republicans. Send comments on this column to ibjedit@ibj.com.
Please enable JavaScript to view this content.