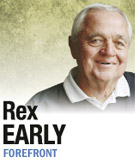 It is only June 2011 and Mitch is not running for president, and Lugar and Mourdock are cutting each other up, but little is being said about the new congressional districts.
The 1st District, Lake and Porter counties, as always will re-elect Visclosky.
The new 2nd District is a different story. Joe Donnelly, the Democratic incumbent, has surrendered. He would have lost. Republican Jackie Walorski, who ran in 2010, will run again and might be challenged in the primary by state Sen. Carlin Yoder. Both are conservatives.
In the 3rd District, which is Republican, Tea Party favorite and incumbent Marlin Stutzman will win again.
In the 4th District, incumbent Todd Rokita has inherited a lot of new territory but the 4th is still heavily Republican, and Rokita will win re-election. He is a hard worker with a good constituency service team working hard for him.
The 5th District is also a strong Republican district and Dan Burton is the incumbent. Like the last few primaries, Burton will have opposition. Dr. John McGoff will run again and State Auditor Tim Berry and Mayor Wayne Seybold from Marion might be interested. If Burton chooses not to run, look for his former administrative assistant, state Sen. Mike Delph, to run.
A wild card for both the 5th and 6th districts is former congressman and gubernatorial candidate David McIntosh, whose old congressional district had parts of both the new districts.
The new 6th District will be a real Chinese fire drill. With Mike Pence running for governor, the battle for his seat will be on. The district is about 55 percent Republican.
The favorite here would have to be McIntosh. He was a Tea Party voter before it was popular.
Former state legislator Luke Messer, who ran a close race against Burton in 2010, will have money and an organization and has already announced.
Just look at the list of those whose names are being mentioned here. State Sen. Jean Liesing, who has run in that area, has good name I.D. She's No. 1 on my Good State Senators list.
Mike Sodrel won this congressional seat before. He can raise the money.
Travis Hankins, a Tea Party conservative, beat Sodrel and ran close to Todd Young in the 2010 primary. He's formidable.
Don Bates Jr., a former candidate for the U.S. Senate., along with T.J. Thompson from Shelbyville and Andrew Phipps from gospel music fame, all will have a following.
The new 7th District is completely in Marion County and incumbent Andre Carson will be the favorite.
The new maps add three Republican townships—Decatur, Perry and Franklin—to Carson's district. If the Republicans could find the person who could raise money, it is possible for a Republican to win.
The district is 58-percent Democratic, but there are Democrats and independents who do not like Carson's voting record, and if Obama would run poorly in 2012, lightning might strike. It happened once before when an unknown Bill Hudnut beat Andy Jacobs. (Dream on.)
The new 8th District is an anomaly. It runs from Vermillion County on the north to the southern tip of Posey County, and it's still going to be bloody. Dr. Larry Buschon is the Republican incumbent and ran a good campaign in 2010 with little money. The Tea Party likes him and he is a go-to guy on health care issues.
Democrat David Crooks from Washington, Ind., a former legislator, will probably be his opponent.
The 9th District should be a rock-solid Republican district with the addition of Republican Morgan, Johnson and Lawrence counties. Todd Young (Semper Fi) ran a great race to get elected in 2010 and he will win again.
Congratulations to those who made up these great maps, which should quiet those Democrats and do-gooders who claimed politics would influence the process. The Democrats will have two out of nine congressional seats—now tell me that's not fair.•
__________
Early served in the Indiana House and as a Republican state chairman, as well as on the Republican National Committee. Send comments on this column to ibjedit@ibj.com.
Please enable JavaScript to view this content.