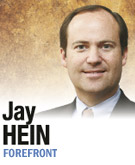 Did you know that 20,000 Africans live in the greater Indianapolis area? The number may astound some, but it is simply another face of the rapidly globalized world we live in.

Another reality about Africa may be more surprising than the continent's immigration patterns. Long viewed as the Dark Continent with outsized and seemingly intractable problems such as famine, AIDS, genocide and hunger, Africa is writing a new story as a global economic force.

Boasting a population of 900 million people (read: customers), Africa's consumer spending totaled $860 billion in 2008 and is growing two to three times faster than Organization for Economic Cooperation and Development nations. Economists project that number to swell to $1.5 trillion by 2020, which would be the financial equivalent of adding another Brazil to the global economy.

Overall, Africa's $1.6 trillion GDP is on par with Russia's. Some might presume that the number is inflated by the vast sums of resource wealth created by digging precious minerals out of the ground or pumping for oil.

Yet commodities fuel only one-third of the continent's economic engine. The majority of revenue comes from consumption, thanks to such trends as Nigeria's telecommunications industry penetrating 48.9 percent of the market in 2009 compared with a minuscule 1.2 percent in 2002.

Consulting giant McKenzie & Co., itself with four African offices, produced a recent report claiming this rapid growth is sustainable thanks to reforms under way across the continent. Macroeconomic stability is evidenced by reduced inflation in such different nations as Egypt and Nigeria; both coincidentally moved from 16-percent to 8-percent inflation over the past several years.

Rwanda is leading the way on microeconomic reforms that decrease regulation and increase entrepreneurship. As reward for its action, the World Bank moved Rwanda up 76 places on its list of best places to do business in the developing world. Numerous publications such as Forbes have published cover stories promoting President Paul Kagame as the model for Africa's new leadership.

While this is good news for Africa, it is also a wake-up call to the rest of the world. Or, more precisely, to the developed world. Africa is already brimming with trade deals in what experts refer to as South to South relations.

China's loans to poor African nations exceed the World Bank's contributions, and their investment has catapulted from $20 billion in the 1990s to $120 billion during the last decade.

Opportunities abound for Hoosiers to get in the game. One notable industry is agriculture. Africa possesses 60 percent of the world's uncultivated but arable land. Enhanced agricultural productivity presents the dual value of feeding a too-hungry continent while positioning its nations to meet the world's steadily increasing demand for food.

Indiana farmers are already engaged in impressive farming pursuits. Purdue agronomy professor Gebisa Ejeta won the prestigious World Food Prize for his innovative research on sorghum, a dietary staple for 500 million Africans.

Bryantsville Hunger Relief Project sends food aid directly from the high-lysine corn grown on the Rosehill Farm and shipped to a half-dozen African nations.

The next step is to assist Africa's rural development, where the majority of its population still lives, through improved farming practice.

Signaling the urgency of this investment target, African heads of state have adopted the Comprehensive African Agricultural Development Programme, which opens the door wide to Indiana agriculture investment.

A state ag trade mission to Africa would place Indiana at the doorstep of significant economic opportunity.•

__________

Hein is president of Sagamore Institute, an Indianapolis-based think tank, and was an official in the administration of George W. Bush. Send comments on this column to ibjedit@ibj.com.