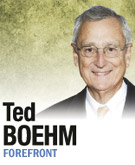 You may not have heard of the Indianapolis Cultural Development Commission, but you are probably aware of some of its work. Over the past 10 years, the commission has supported the Cultural Districts program that has given new identity and energy to Broad Ripple, Fountain Square, Massachusetts Avenue, the Central Canal and White River State Park, Indiana Avenue and the Wholesale District.
The commission's large-scale exhibitions of works by world-renowned artists have drawn national attention and left major pieces by Tom Otterness and Julian Opie as permanent additions to Indy's downtown. Less spectacular but equally important commission programs have supported exhibitions and performances by local talent over a wide range of performing and visual arts.
Campaigns in partnership with major cultural institutions have attracted visitors from Cincinnati, Chicago, Louisville, St. Louis and some smaller media markets to such unique offerings as the opening of the Indianapolis Zoo's dolphin pavilion, The Children's Museum's Dinosphere, and the expansions of the Eiteljorg Museum of Indians and Western Art and the Indianapolis Museum of Art.
Most cities of our size rely heavily on public funding for their cultural assets. Like so much of the progress we have seen in central Indiana, the commission's programs have been the product of a public-private partnership.
The commission was formed under Mayor Peterson in 2001 and funded through 2006 with $1 million per year each from the Capital Improvement Board and Lilly Endowment.
The commission does not operate programs. It funds programs administered by its partners–the Arts Council of Indianapolis, Indianapolis Downtown Inc. and the Indianapolis Convention & Visitors Association.
The commission was formed to strengthen and support the many cultural and arts resources Indianapolis offers. Its approach was multi-faceted. One goal was to raise both local and national awareness that Indianapolis has a rich and varied array of cultural resources and amenities. A second was to generate more participation in and support of our artists and cultural institutions by local citizens and tourists.
Much has been accomplished, but much remains to be done. Beginning in 2007, CIB was unable to continue supporting the commission. Additional support from Lilly Endowment permitted programming through 2008, but future private funding is contingent on public participation.
For the past two years, the commission has conserved its limited remaining resources until meaningful programs could be implemented. Fortunately, some of the programs were adopted by others when commission funding was exhausted. This is the ultimate demonstration that these experiments were worthwhile.
There is more good news. CIB this year has budgeted $150,000 for the commission in 2011. This level of support does not permit the blockbuster public art exhibition or major promotion that the IMA's designation as the U.S. exhibitor at the Venice Biennale deserves. But it does permit several important steps.
The commission will fund required maintenance of existing efforts, such as supporting and updating the websites of the several cultural districts. It will support opportunities to showcase Indy's arts scene surrounding major sporting events. Campaigns to promote Indy's cultural attractions from at least two major nearby markets can be funded.
The momentum from the initial programs remains, but cannot be sustained for long without additional ongoing support. Many of these programs are like painting the Golden Gate Bridge. As soon as we get to one end, it's time to start over at the other.
National and local awareness of Indy's cultural riches adds real value to this community. Maintaining and strengthening that awareness takes imagination, hard work and resources to support the constant repetition required to remind old friends and inform new ones.
There is reason to hope this effort can be sustained. It will take public recognition that an urban quality of life requires a smorgasbord that caters to all tastes and offers sports, entertainment, performing and visual arts, and quality cultural and educational opportunities at all levels.
I hope local government will be able to provide the resources to build on the progress to date.•
__________
Boehm is a retired Indiana Supreme Court justice who previously held senior corporate legal positions and helped launch amateur sports initiatives in Indianapolis. Send comments on this column to ibjedit@ibj.com.
Please enable JavaScript to view this content.