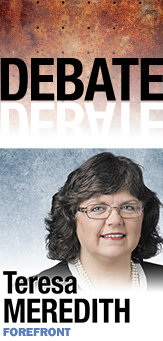 Question: What education issue should the General Assembly address next?
Answer: Dropout prevention should begin long before a student enters a K-12 program. It is vital that Indiana legislators begin to address the growing need for quality pre-kindergarten experiences.
In his State of the State address, Gov. Mitch Daniels failed to even mention the importance of pre-kindergarten or early childhood education. After the 2011 legislative session, Daniels and state lawmakers touted the passage of full-day kindergarten, but the state will not fully fund school corporations for full-day programs.
The Legislature actually allocated funding that will be used to make full-day kindergarten available in school districts that previously could not afford it. The amount of funding each school district receives in 2012 will depend on the number of students enrolled.
Again, the state's commitment to education reform and early ed falls short.
High-quality pre-kindergarten is the first step in comprehensive education reform. Elected officials who seek to improve public schools must embrace what the evidence shows—that high-quality, voluntary pre-K programs provide the best strategies for educational success.
Early programs save taxpayer money; improve children's cognitive, social and emotional skills; decrease the need for grade retention and special ed services; boost lifetime earnings; help close the achievement gap; and reduce crime and drug-use rates.
Studies like the HighScope Perry Preschool Study and the Abecedarian Project show that high-quality education programs for children before age 5 yield significant long-term effects, but Indiana has no state-funded pre-kindergarten program or state investment in Head Start.
Many of my colleagues are as concerned as I am about the growing number of children who enter classrooms already behind their peers both socially and academically. The evidence suggests the "school readiness gap" begins before children enter school and places children at risk of failure.
The facts are compelling:
• The Annie E. Casey Foundation reports that more than 17 percent of Indiana's children under age 18 live in poverty and 41.8 percent receive free or reduced-price lunch, and that these children benefit when pre-kindergarten is followed by full-day kindergarten and high-quality instruction in the early grades.
• The Perry project found that individuals who were enrolled in quality preschool programs ultimately earned up to $2,000 more per month than those who were not, and young people who were in preschool programs were more likely to graduate from high school, own homes and have longer marriages.
• The Abecedarian Project offered similar results: Children in quality preschool programs are less likely to repeat grades, need special education or get into trouble with the law.
• A pre-kindergarten study in Oklahoma—Oklahoma, Florida and Georgia are the only states to offer preschool to virtually every 4-year-old—found significant improvement in students' reading, writing and spelling abilities.
• The Early Head Start study showed gains in children's social and emotional development and health as well as enhanced family support for children's learning.
Indiana policymakers must use the data-driven evidence to investigate early ed options and funding. Some states overcome pre-K funding using federal funding, grants and Title 1 funds. But as with most startup grants, once early programs are operational, the state and districts must take ownership of the funding.
Legislators need to explore ways to link pre-K programs to the infrastructure and talent of Indiana's public school system and to align pre-K standards with kindergarten standards. Lawmakers also need to consider how to ensure that early ed programs are staffed by licensed and certified instructors.
Let's expect our legislators to look at the facts next session. All children deserve access to early learning opportunities that will increase their chances for success in school and in life. Our state's future depends on successful early education. It's a good time—and a good place—to begin.•
__________
Meredith is vice president of the Indiana State Teachers Association and has taught for more than 18 years in Indiana schools. Send comments on this column to ibjedit@ibj.com.
Please enable JavaScript to view this content.