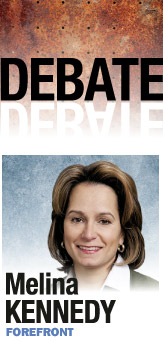 Question: What role, if any, should the mayor of Indianapolis play in overseeing Indianapolis Public Schools?
Answer: Education is a cornerstone of any great city. People move into and out of cities based on the quality of schools, and families select neighborhoods in which to live based on them. The quality of education we provide our children affects not just their ability to succeed in life, but the quality of life of our entire community.
While there are many examples of outstanding public schools throughout our city, including charter schools, graduation rates remain distressingly low. Kids who drop out of high school are eight times more likely than high school graduates to be incarcerated and three times more likely than college graduates to be unemployed.
When our children fail to graduate, it affects crime rates, reduces our ability to attract and retain employers, and increases the expense of social services the city and state must provide.
We cannot accept the status quo any longer. Even without direct control over school systems, there is much the mayor can do to influence education policy and have an impact on our public schools.
There are two approaches an Indianapolis mayor can take on education. One is to accept the status quo, leaving to others the task of finding solutions to these seemingly intractable problems.
To his credit, Mayor Ballard has continued former Mayor Peterson's charter school initiative. But he simply has not demonstrated leadership on education, particularly in relation to traditional public schools.
The other approach, which I would follow, is to be fully engaged on the issue of education; to be a leader who convenes all stakeholders—parents, teachers, administrators, businesses and the faith community—to provide a platform to identify and replicate what is working in successful schools, and to find creative ways to influence the educational outcomes for all our children.
That is why, over the past year, I have been talking to educators, parents and others engaged in the education debate. And that is why, a few weeks ago, I put forth five guiding principles that I believe are key to improving education, and I announced that I would convene a community conversation about ways those ideas, and others, may lead to educational improvement.
In my view, everyone's ideas are welcome. And my approach, in contrast to Ballard's, is not to decide what ideas should be on or off the table for discussion before people have had their say.
As part of that community conversation, I am going to hold a series of community forums, teacher forums and town hall discussions throughout the summer to highlight the challenges and seek input on ways in which the city can meaningfully partner with stakeholders to improve our schools and the educational outcomes of our children.
Precisely because there is no "silver bullet" solution that will solve all our education problems, it is even more important to have a mayor who is engaged on the issue of education.
The five principles I will pursue as candidate and, if elected, as mayor, include leadership and advocacy for educational improvement in our public schools; early childhood education and literacy; continuing selectivity and accountability for charter schools; attracting talent and innovation to the classroom; and collaboration among the city, Marion County's 11 school corporations and the charters schools.
Mayoral leadership and meaningful community engagement are necessary ingredients to any comprehensive plan to improve our schools. If we succeed, we will not only improve the educational outcomes and life prospects for our children, but we will also attract people to our city and neighborhoods, reduce crime, improve economic development and prosperity, and improve the overall quality of life of our community.
Our children and families deserve it, and the future of our city depends on it.•
__________
Kennedy, a Democrat and a former deputy mayor of Indianapolis, is running for mayor. Send comments to [email protected].
 
Please enable JavaScript to view this content.