Indiana's statewide energy conference, "WIndiana," this year will include star power.
Not shooting stars or wish-upon-a-stars but none other than actor Ed Begley Jr., better known lately as the star of Planet Green network's "Living with Ed".
Begley is famously obsessed with making his home more energy-efficient—and for driving his wife nuts.
The conference is scheduled for July 20-21 at the Indiana Convention Center.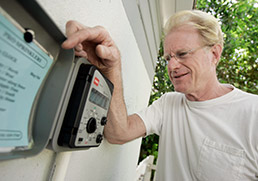 Actor and environmentalist Ed Begley Jr. shows how his Los Angeles home sprinkler control system operates. (AP Photo)
The first such conference was launched in 2008. Last year's event drew 550 attendees, according to the Indiana Office of Energy Development, the state agency that hosts it.
Next month's conference is expanding beyond wind-energy topics to include discussion of solar, bioenergy and alternative-fuel vehicles.
Wind farms sprouting in Indiana—mostly in the northern half of the state—have a generation capacity of 1,339 megawatts, according to the Indiana Wind Energy Association. Indiana is ranked 15th in installed generation among all states.
The conference will include bus tours to the Horizon Wind Meadow Lake wind farm in White County, a tour of Johnson Melloh's 100 kilowatt solar array near Indianapolis International Airport, and a tour of a methane-recovery system at the city's landfill off Kentucky Avenue near South Harding Street.
For more details on the event and admission prices, see www.conf.purdue.edu/wind.
Please enable JavaScript to view this content.