Indianapolis-based Business Furniture LLC, a longtime Indiana market-share leader in office furniture sales, recently announced an expansion into Iowa and central and upstate Illinois that company officials predict will double the company's sales within five years.
New markets include Bloomington-Normal, Springfield, Champaign-Urbana, Peoria and the Quad Cities. The Bloomington outlet, which will open in September, will serve as Business Furniture's Illinois headquarters, Oakes said. The first store in the Quad Cities, a region including three cities on the Illinois side of the Mississippi River and Davenport, Iowa, will open in December. The company expects to add locations in the Quad Cities and open in Springfield and Champaign-Urbana in 2012.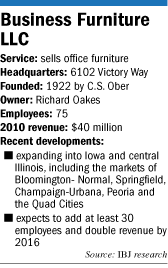 Business Furniture, which has 75 employees and $40 million in annual sales, plans to double its revenue and add at least 30 employees by 2016, said the company's chairman, Richard Oakes. Its current footprint stretches from Terre Haute to Richmond and from Kokomo to south of Evansville. According to Oakes, the company has about 35 percent of the office furniture market in Indiana.
Distribution for the expanded region will initially be handled out of Indianapolis, but Oakes said within two years he expects to open a distribution hub in Illinois.
Most of the growing company's administration will remain in Indianapolis, Oakes said.
"The expansion into these new markets will strengthen our corporate headquarters in Indianapolis as we become a regional company," Oakes said.
Oakes, 67, who bought the company in 1987 from the founding Ober family, downplays the risks of such a large expansion while the economy in general and the office furniture sector in particular are still struggling to stabilize.
After reaching near-record U.S. sales of $13.4 billion in 2007, domestic office-furniture sales plummeted more than 32 percent, to $9.2 billion, in 2009 before rebounding slightly to $9.8 billion in 2010.
"One of our major suppliers, Steelcase, wanted increased market coverage in central Illinois, so we've been looking at this for about a year," Oakes said. "There's been a lot of consolidation and regionalization in the industry, and that has presented us with an opportunity."
A swooning economy offers unique opportunities for retailers with a solid balance sheet, said Richard Feinberg, Purdue University professor of consumer sciences and retailing. "This is the time for a company with a strong ledger to come in and acquire market share, and really be poised for serious growth when the market takes off again in two or three years."
Despite the struggling economy, Oakes said his company has continued to grow sales—about 3.5 percent in recent years—and he's confident Business Furniture will be able to attract customers in its new markets.
Purdue's Feinberg said the company's ability to secure financing for such an expansion is a sign of its overall strength. The expansion will cost Business Furniture "several million dollars over the next five years," Oakes said, adding that the capital for the move came from the company's own profits and its existing line of credit.
Business Furniture did not request or receive any tax incentives to expand into Illinois and Iowa, Oakes said.
The company derives about one-third of its revenue from business offices, one-third from the education sector, and one-third from health care facilities, Oakes said.
"We chase white-collar markets where there are a lot of office workers," he said. "And we think these new markets will be good ones for us to grow in."
Oakes is using his facility in the Bloomington-Normal market for a unique set-up. Instead of a traditional showroom, Business Furniture will have a 7,000-square-foot facility outfitted with office furniture and built-in technological features that not-for-profits can use for meetings at no charge and for-profit businesses can rent.
The facility, Oakes said, is a way to support the not-for-profit community while showcasing his company's goods to business executives who occupy not-for-profit board positions.•
 
Please enable JavaScript to view this content.