Indiana Black Expo is working to overcome last summer's shootings and a recent staff mutiny, but observers say the root of the problem is declining interest among African-American adults in its signature event.
The organization's Summer Celebration, which runs July 7-17 this year, is the largest and longest-running event of its kind in the nation. It encompasses a huge variety of events, from free concerts to business seminars, and attracts celebrity guests—this year Angela Bassett and Danny Glover. Attendance over the 11 days tops 225,000.
In Indianapolis, however, the expo has a reputation for drawing throngs of teenagers—as many as 5,000—downtown on the final Saturday. That became a problem last year, when 10 young people ages 10 to 19 were injured in three separate shootings.
Bell
Indiana Black Expo organized a safety task force with representatives from a variety of business and community interests just three days after the incident, CEO Tanya Bell said.
"We really wanted to take a proactive approach," she said. "We wanted to focus on what we had more control over."
It's an awkward time for expo officials to be trying to improve Summer Celebration's image, as the organization's own staff appears in disarray. The board brought in a management consultant after 17 of its 22 staff members last month signed a letter saying Bell created a hostile work environment that included employees' being "disrespected, disregarded and demeaned."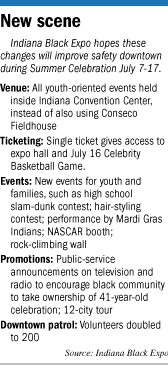 While the organization addresses those issues, it's also putting in place the action plan released in April by the Summer Celebration task force. The task force, which included the commander of the Indianapolis Metropolitan Police Department's Downtown District, called for several changes that officials hope will prompt teens to spend time inside the Indiana Convention Center rather than on nearby streets.
For starters, the main youth draw, the celebrity basketball game, will be inside the convention center, rather than at Conseco Fieldhouse on the other side of downtown, and it won't require a separate ticket.
Expo officials also want to encourage adults to accompany children downtown. The exhibition hall will have new family-friendly features, including a climbing wall in the "Fun Zone," a NASCAR exhibit and a hair-styling competition.
IMPD will have 500 officers on patrol and enforcing the curfew, 11 p.m. for children 14 and younger, and 1 a.m. for ages 15 to 17, according to the action plan. The department has designated two places where parents can pick up and drop off kids—Maryland and West streets, and Capitol Avenue and Ohio Street.
Somewhere along the way, adults lost interest in attending Summer Celebration on that final Saturday, said Amos Brown, host of "Afternoons with Amos" on WTLC-AM 1310. He'd like to see it become a family event once more.
"In Expo's heyday, it had that balance," he said. "There were things for adults, things for young people. So a family could come together, split up in the building, and leave together."
That's important to the event's bottom line, as well as its local image, said Bruce Bryant, managing director of Promotus Advertising, which represents this year's title sponsor, the Indiana Tobacco Quitline, 1-800-QUIT-NOW.
"The youth don't spend money, so it's awful hard to continue to sell your sponsors on, 'Here's who we attract,'" Bryant said. "The deeper problem is a marketing problem."
Summer Celebration has about $1 million in sponsorship revenue this year, a slight increase over last year, said Lisa Dandridge, treasurer of Indiana Black Expo.
Diabetes-treatment company Novo Nordisk increased its backing from $25,000 to $125,000 this year, and new deals are on the horizon, including a three-year pact with a group of state universities.
Bryant says many events do draw a mostly adult crowd. The Music Heritage Festival, a free outdoor concert on American Legion Mall that will be on Friday this year, had 60,000 attendees last year.
The corporate luncheon, which this year will honor Bassett, Glover and Indianapolis Colts linebacker Gary Brackett, drew 2,600 people last year.
Expo officials have moved the lunch from Sunday to Friday in hopes of drawing more out-of-town attendees.
"Those are things that are very successful," Bryant said. "But those are things that don't make the news as it relates to Friday, Saturday, Sunday at the convention center."
Overall attendance was down about 14 percent last year to 229,376. Expo officials are working to bring the numbers back up, while emphasizing the need for a positive experience.
A series of public-service announcements—recorded by Brackett, L.A. Clippers guard and Indianapolis native Eric Gordon, Eastern Star Church Pastor Jeffrey Johnson and others—will air on radio and TV now through the Summer Celebration.
"We're going to accentuate the positives this great event has enjoyed for 41 years," said Vernon Williams, an expo board member and media consultant.
The ads also will address the need for parents to accompany teens downtown, Williams said, though he said it's not only the expo's job to convey that message. "The message is clearly an offshoot of the task force."
Brown said he's concerned teens won't take the message seriously because of the public airing of expo's internal rift.
One caller to Brown's show told him he overheard young people at a bus stop asking, "How is Expo going to tell us how to behave? They can't behave themselves."
"That's how young people think," Brown said.
Staff members on June 3 released to media outlets a letter they'd sent in May to the board, in which they called Bell "a perfect example of a bully."
The letter also raised concerns about the future health of Summer Celebration. It cited events that overlap with Expo dates, or occur near them.
"There was a time when outside groups and promoters would respect the Summer Celebration schedule and would attempt to collaborate with IBE," the letter said. "Clearly, the organization no longer commands such respect."
Williams said that's not the case. In fact, he said, Indiana Black Expo will have a huge presence at one of the events the staff's letter cited—Kappa Alpha Psi's 100th anniversary convention, which runs July 2-10 at various downtown locations.
The black fraternity was founded at Indiana University, and it has a large base in Indiana. "So it's a great opportunity for Black Expo," he said.
Bell works with the Indianapolis Convention and Visitors Association to attract groups that could piggyback on Summer Celebration. The National Black Nurses Association, for example, will have its conference at the J.W. Marriott in the third week of July.
"That's really strategic for us," she said.
Expo officials would not reveal their 2010 financial results, saying the numbers had not been presented to the full board.
Summer Celebration has lost money in the past—$227,000 in 2007. Bell, a former board member who became CEO in 2008, has put in place management practices that lowered the organization's fixed costs, Dandridge said.
The event made close to $277,000 in 2008 and $218,000 in 2009.
As a result, Black Expo, which has total revenue of about $7 million, has been able to invest in technology, fix up its headquarters building on North Meridian Street, and add a chief operating officer.
Bell recognizes the need to boost attendance. In conjunction with the public-service announcements, she's touring the expo's 12 chapter cities with board members and a street team.
"We're promoting it hard," Bell said. "Our goal is to increase attendance."•
Please enable JavaScript to view this content.