Mayor Greg Ballard on Monday announced the city's selection of a developer and operator for a $15 million mixed-use Broad Ripple parking structure planned for the southwest corner of the intersection of Broad Ripple and College avenues.
Indianapolis-based Newpoint Parking, Keystone Construction and Ratio Architects are teaming up with Michigan-based Walker Parking Consultants on the project. Their plan was selected after the city put out a request for proposals in March.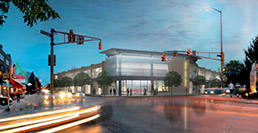 Work on the $15 million project is set to start this summer. (Rendering courtesy city of Indianapolis)
The parking garage will include about 350 parking spaces, with retail space and a police substation on the first floor.
The city will contribute $6.35 million to the project using the upfront payment from the parking meter privatization deal, which must be used to fund infrastructure projects in the downtown, Mass Ave and Broad Ripple areas. The project will not receive a tax abatement and is expected to generate about $350,000 in property taxes per year.
Construction is set to begin this summer and the facility is expected to open by spring or early summer 2012. The site now is home to a Marco's Pizza store and shuttered Marathon gas station.
"Broad Ripple Village has long needed a garage of this magnitude to alleviate parking issues and allow for implementation of a residential parking permit system on neighborhood streets," Ballard said in a prepared statement. "Visitors to the Broad Ripple area will have a safe, secure, well-lit area to park their cars, while residents and their guests will more easily be able to find on-street parking near their homes."
Since the request for proposals was made public, interest in the project has been intense, city officials said. Bidders included prominent local developers, including Kite Realty Group and Browning Investments. Another former gas station, the area behind the Vogue nightclub and space near the Riviera building on Westfield Boulebard also were mentioned as possible sites for the parking facility.
"The city of Indianapolis received several proposals for this project and found this proposal offered the best solution to address Broad Ripple Village's needs for daily and monthly parking," said City-County Council President  Ryan Vaughn, whose district includes Broad Ripple. "We have worked with the Broad Ripple Village Association and other partners over several years to arrive at a plan that offers great retail space that will be an additional amenity for the community."
Operators will set rates for parking at the garage, but the city said it will have oversight and the ability to cap the rates. A public meeting in late July will allow residents to provide comment on the plans for the garage. Creation of the garage allows for discussion to begin on a residential-permit parking program, which cannot be implemented until the garage is built to provide parking for Broad Ripple visitors.
All revenue from the garage will go to the private operators.
"This high-performance mixed-use structure will transform an eyesore into an asset and stimulate much-needed infrastructure improvements," said Broad Ripple Village Association board member Tom Healy. "We look forward to working with the developers and the city to create a dynamic Village gateway."
Weigh in on the plan at IBJ's Property Lines blog.
Please enable JavaScript to view this content.